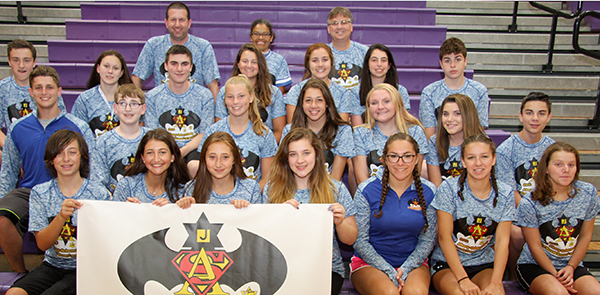 Pictured are: bottom row, from right, Adina Kligerman, Natasha Sheffer, Sophie Sheffer, Claire Nicoletta, Halle Niner, Rachel Pierce, Eli Horwitz; next row, from right, Zed Fermon, Michal Drucker, Brogan Monroe, Elah Ginsburg, Jamie Golderman, Ben Goldberg, Ethan Luper; next row from right, Yannai Arazi, Stephanie Palat, Lauren Heller, Haley Golderman, Alex Goldberg, Abby Jenkins, Josh Kent; and top row from right, Billy Golderman, Rossi Maldonado, and Drew Katz.
The Albany and Schenectady Jewish Community Centers sent 19 athletes and two artists as a joint delegation to the recent 2016 JCC Maccabi Games. The delegation came back with 53 medals.
The Games are open to Jewish youth between the ages of 13 and 16 and the Arts Fest is for teens ages 13 to 17.  Opening ceremonies in Stamford, Conn., host for the local group, were at Webster Bank Arena with a Parade of Athletes and Munich 11 Tribute. During the week teens competed and participated in Jewish Community Center Cares mitzvah projects during the day. Arts Fest teens ran workshops with professionals. Evening social activities were also held during the week.
Athletes, artists, and adult staff included: Golf – Haley Golderman (parents Billy and Kathy of Slingerlands), Halle Niner (parents Phyllis and David of Voorheesville), and Rachel Pierce (parents Jon and Lisa of Menands). Ice Hockey – Josh Kent (parents Rebecca and Sean of Rexford). Lacrosse – Jamie Golderman (parents Phil and Renee of Guilderland). Soccer – Zed Fermon (parents Lori and Ivan of East Greenbush). Basketball – Claire Nicoletta (parents John and Rose of Glenmont). Baseball – Ethan Luper (parents Eric and Elaine of Loudonville). Swimmers – Adina Kligerman (parents Tom and Becky of Albany), Sophie and Natasha Sheffer (parents Marla and Eric of Clifton Park), Elah Ginsburg (parents Adam and Evelynn of Troy), Abby Jenkins (parents Teri and Steven of Frisco, Texas), and Brogan Monroe (parents Cori and Charles of Albany). Dance – Michal Drucker (parents Amy and Rich of Albany). Tennis – Yannai Arazi (parents Arianna and Doron of Ballston Lake), Stephanie Palat (parents David and Wendy of Slingerlands), and Lauren Heller (parents Ruth and Justin of Slingerlands). Table Tennis – Ben Goldberg (parents Joanna and Craig of Slingerlands). Acting/Improv (Arts Fest) – Eli Horwitz (parents Amy from Guilderland and Nate from Slingerlands) Star Reporter (Arts Fest) –Alex Goldberg (parents Joanna and Craig of Slingerlands).
The adult staff included Andrew Katz, delegation head from AJCC; Eric Medved, tennis coach from East Greenbush; Billy Golderman, golf coach from AJCC; Brian Robinson, 2017 Capital Region JCC Maccabi Games director; and Rossi Maldonado, swim coach from the AJCC.
Next summer, from Aug. 6-11, this region will be a host of the Maccabi Games.
Katz, Maccabi Games delegation head, at 438-6651 or AndrewK@albanyjcc.org at the AJCC or Robinson, 2017 JCC Maccabi Games director, at BrianR@albanyjcc.org or 438-6651 can provide details.