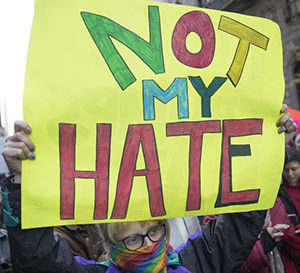 SCHENECTADY–Members of the Schenectady area clergy have been concerned about the growing levels of hatred in the community over the last few months. They have perceived an increase of incidents of bigotry, racism, and discrimination against people of differing faiths, color, ethnicity, gender, and sexual orientation. Tensions surrounding the November elections and the upcoming presidential inauguration have heightened sensitivity and the local clergy are calling for awareness of these problems.
As a result a group of Schenectady clergy has been meeting regularly to strategize on how to address growing communal concerns. Starting this January, a loosely forged coalition of clergy, called the Schenectady Clergy Against Hate, will be holding a series of events to encourage awareness and frank discourse on complex social issues.
The group also will encourage individuals to sign a pledge that calls personal accountability in one's conduct. Attached is the letter signed by various clergy that outlines the concerns as the pledge form that people are being requested to sign on to as a personal commitment for community unity.
The Schenectady Clergy Against Hatred invites the public to these various events that are designed to raise awareness:
January 18 —In an effort not to merely criticize and point out problems, the clergy starts its work by joining together to work for communal good. As a symbol of unity, the area clergy will join together at Northeast Regional Food Bank from noon to 3 p.m. those interested in volunteering there may call 518-786-3691.
January 20 at 12 p.m.—Area clergy will gather at noon at Emanuel-Friedens Church, 218 Nott Terrace in Schenectady to watch the inauguration and stand united as Americans during the polarizing transition.
January 20 at 6 p.m.—Members of faith communities are invited to gather at Temple Gates of Heaven, 852 Ashmore Ave., Schenectady to share a meal together  "Soup Sabbath." The fund-raiser will support Schenectady Inner City Mission's [SICM] feeding programs. Those planning to attend are asked to call 518-374-8173 to make a required reservation. The donation suggestion is the amount one would spend to go out to eat, according to organizers.
January 20 at 7 p.m.—A community conversation at Temple Gates of Heaven, 852 Ashmore Ave., Schenectady on "Discrimination, Bigotry, and Hatred In Our Community"
January 25 at 7 p.m.—"A Service of Solidarity and Unity" at Temple Gates of Heaven, 852 Ashmore Ave., Schenectady. Community leaders and area clergy will lead worship using words of their own faith traditions and share perspectives of what it means to be American in 2017. The event will culminate in a candlelight march from Gates of Heaven to other nearby houses of worship.
February 7, in the afternoon— A blood drive at the Mt. Olivet Missionary Baptist Church, 1068 Park Ave., Schenectady. The church's office can provide details and registration at 518-374-0422.
The Schenectady Clergy Against Hate's mission: To bring the community together under the auspices of houses of worship; to encourage unity through prayers, songs, and talks; to highlight the diversity of faith, color, sexual-orientation, gender, backgrounds, origins in community; to draw attention that all of us are proud Americans, but not all of us feel connected to the American political system; to speak out to hate-filled rhetoric and bigotry plaguing our communities; to encourage all of us to speak in our own voices and to be acknowledged by others with respect and dignity.
The coalition is comprised of: Rabbi Matt Cutler, Congregation Gates of Heaven; Rev. Bill Levering, First Reformed Church; Imam Genghis Khan, Schenectady County Jail; Father James McDonald, St. Stephen's Church; Gurpreet Singh, American Sikhs for Humanity; Rev. Horace Sanders, Jr., Mt. Olivet Missionary Baptist Church; Jamshaid Minhas, Islamic Center of the Capital District; Father Robert Longobucco, St. Kateria Tekawitha Parish; Rev. Viki Brooks, Union College; Rabbi Ted Lichtenfeld, Congregation Agudat Achim; Rev. Peter JB Carman, Emanuel Friedens Church; Rev. Stacey Midge, First Reformed Church; Rev. Phillip Grigsby, SICM; Rev. Jason Fulkerson, Niskayuna Reformed Church; Rev. Alan Kinney, Eastern Parkway United Methodist Church; Rev. Sara Baron, First United Methodist Church; Rev. Robert Long, Schenectady Interfaith; Humera Khan, Islamic Center of the Capital District; Dr. Paul Uppal, Guru Nanak Darbar Sikh Temple, Niskayuna; Rev. Dustin Wright, Messiah Lutheran Church;  and Rev. Lynn Carman Bodden, First Reformed Church of Scotia.
Other interested clergy are welcome to join the coalition, according to organizers.