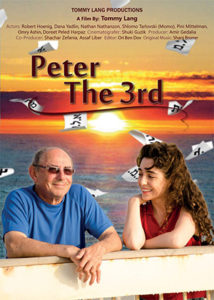 Congregation Beth Emeth will host a deli and movie night on Saturday, April 22, at 6:30 p.m.. The film will be "Peter the 3rd," a 2015 Israeli comedy about Peter, a 65-year-old widower, a theater actor who never got a lead role.
Peter decides to run for the Knesset in order to receive a Knesset member's pension. With help from Alona, a 28-year-old talented waitress who writes blogs, they set up the Widows and Widowers Party. They both start out on a journey which removes them from their loneliness and exposes them to new worlds that will help them leave their pasts.
The film is in Hebrew with English subtitles. Dinner will be from Ben & Bill's Deli. The cost for the film and dinner is $18 for Beth Emeth members; $25 for non-members. Reservations by Thursday, April 20, at www.bethemethalbany.org or dsokoler@bethemethalbany.org. Beth Emeth is at 100 Academy Road, Albany.