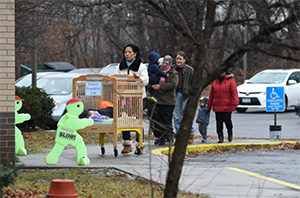 The Albany JCC has received a second bomb threat this morning at 10:30, according to reports by
Jewish Telegraphic Agency
and the
Albany Times Union
.
The building was cleared and searched by police dogs, with no bomb found, as was the case on Jan. 18.
Bomb threats were phoned in to 16 JCCs on Jan. 9, 30 Jewish institutions on Jan. 18, and 17 Jan. 31.
Adam Chaskin, executive director of the Sidney Albert Albany Jewish Community Center, released this statement:

Earlier today, our staff received a bomb threat that was deemed credible, prompting us to notify local authorities and move all members and staff to a safe area until the all-clear was given by the Albany Police Department. 
Nothing is more important to us than the continued safety of our members and staff. Our team reacted swiftly and appropriately and we are grateful to the local authorities for the manner in which they have responded to ensure safety and security.
We spend enormous time and resources to try to ensure that our members and staff are safe and I am proud of the way that our staff has responded to this training. This is not a case where the Albany JCC is being singled out. Unfortunately, these threats are happening across the country and the world. We are working with our local police as well as national authorities on this matter.
We will do everything possible to keep our members, staff and facility as safe as possible.