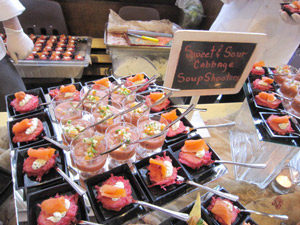 SCHENECTADY– Unlimited samples of traditional and modern Jewish foods will be featured at the 15th annual Jewish Food Festival on Sunday, March18, at Temple Gates of Heaven, 852 Ashmore Ave. The focus of the festival will be on the world of Jewish cuisine, which has developed in many cultures around the globe and it will showcase characteristic dishes from Eastern Europe, the Middle East, Northern Africa, and New York City, according to organizers.
A variety of foods prepared by area restaurants and caterers including Price Chopper's Ben and Bill's Deli, Gershon's Deli, The Phoenicians, Finn Your Fishmonger, Dilly Bean, and by many volunteers will be available for sampling.
In addition to the food samples and other family friendly activities, attendees will be given a festival passport that will be stamped at each vendor's station and then entered into a drawing to win prizes. There will also be a silent auction.
"By sharing our culinary customs and Jewish community, we share our experience of Jewishness with others, " said Rabbi Matt Cutler , spiritual leader of the congregation.
The fee is $20 for adults, $8 for children 13-17 years, and free for children 12 years and under. Those donating three non-perishable food items to the Regional Food Bank of Northeastern New York will receive a $5 discount.
The festival is cosponsored by Price Chopper/Market 32, Hill & Markes, Morgan Linen, The Magnet Man, County Waste, Hugh Johnson Advisors, Tech Valley Drywall, Adirondack Oral & Maxillofacial Surgery, and Catskill Hudson Bank.
The temple office at 518-374-8173, e-mail klaws@cgoh.org, or the website at www.cgoh.org can provide details. Tickets may also be purchased on the temple website.