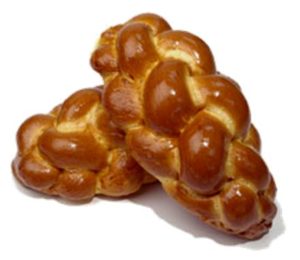 Jewish children from the Capital Region will be tasked with mixing, kneading and braiding at the "Kids Mega Challah Bake" on Sunday, Feb.26, at 2:30 p.m. at the Albany Jewish Community Center, (AJCC) 340 Whitehall Rd., Albany. The program is geared to children ages 5 – 13 and is free and open to the community. Children from throughout the area are invited to participate.
The local  mega challah bake is the first time that a community challah bake has been held here just for children. The program will also include games and a light snack.
At the bake, sponsored by 11  community organizations, children will learn how to mix, knead and shape their own challah breads.
Challah in its widely known usage refers to a braided bread traditionally eaten on Shabbat and other holidays. But in its more basic, biblical meaning, challah is the piece of dough that is traditionally separated and consecrated to God while baking  the bread, a custom that has been performed, primarily by Jewish women, for over 100 generations.
Organized by the Jewish Federation of Northeastern New York, Capital District Chabad and the PJ Library, and co-sponsored by the A.J.C.C, Camp Gan Israel, Congregations Beth Abraham-Jacob, Beth Emeth, and Ohav Shalom, the Hebrew Academy of the Capital District,  and  the Maimonides Hebrew Day School.
"Baking challah is a time-honored mitzvah (commandment) dating back to our matriarchs, we want to pass this down to our children for the next generation to carry it forward," said Chanie Simon of the Bethleham  Chabad, and one of the event organizers.
The committee for this event includes Amy Drucker, Simon, Ilyse Weinstein, Ruth Malka, Marina Verba, Tamara Wrzesinski, Michele Greenblatt, Ofir Katz, Amanda Gurock, Lianne Wladis, Jessie Reinhardt, Rachael Woren, Leah Rubin and Raizel Rubin.
Information and registration may be obtained at  www.CapitalKidsChallahBake.com or by calling 439-3310.