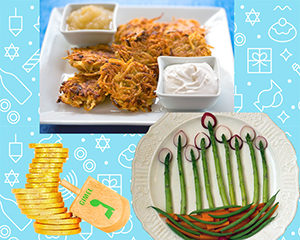 CLIFTON PARK–The Clifton Park Chabad has announced three upcoming Chanukah-related programs. The organization's Jewish Women's Circle  will get into the mood early with the 'Gift the Gelt,' an afternoon at Mocha Lisa's Caffé, 22 Clifton Country Rd., Clifton Park Center on Sunday, Dec. 11, 3-5 p.m. The family Chanukah celebration, "Glow the Dark Menorah" has been arranged for Sunday, Dec. 27, 4:30 p.m. at Boscov's Clifton Park Center and a program for tots has been set on Monday, Dec. 26, at 11 a.m. Entitled Baby Loves Chanukah! it will be held at the Tiny Tots Tea Room, 1536 Crescent Rd.
Attendees  of the Jewish Women's Circle  program will join a hands-on demo on chocolate confections and take home a sack of gelt to share. The women will explore: 'Charity hastens the redemption' and feast on Chanukah treats. Hostesses for the event are Iris Nemes, Ronda Ross, Sandy Rybaltowski and Rochelle Treiber. A donation admission of $10 is suggested.
"Glow the Dark Menorah"  will feature Sparkles — The Tall Juggler, menorah lighting, and Chanukah fare, crafts and games, face painting and raffles. Those planning to attend are asked to bring toys to donate to AMC and special needs children and  to make reservations at 495-0772.
The Chanukah program for tots will explore sensory Chanukah activities and feature Chanukah song, music, movement and bubbles.
Information about any of the programs may be obtained by contacting Leah Rubin at 495-0779 or info@cliftonparkchabad.com cliftonparkchabad.com.