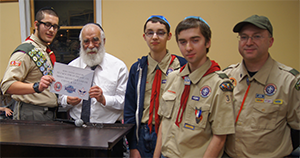 Maimonides' Hebrew Day School alumnus Eli Kochman designed and built a practical and portable Torah reading bimah as an Eagle Scout project. It was dedicated at the recent Maimonides family Chanukah event ("Chanukah" relating to dedication/education).
Eli, the son of Rabbi Shmuel and Rivka Kochman, is 17 and graduated from the school, located at 404 Partridge St., Albany, in June of 2016.
Eli Kochman presented the mission of Troop 33 (sponsored by the Jewish War Veterans) as an integration of Judaism with nature and skill building, similar to the Maimonides School's vision of blending Torah with worldly experience. He shared his scouting experiences and related how he kept kosher and Shabbat while camping, and made minyan and reading Torah in wilderness settings. He has been a scout for over 10 years. Scoutmaster Adam Selsley presented him with a "Family Life" merit logo to add to his other merit badges.
When fully assembled with its sloping top, the wooden bimah is used for Torah reading once a month when the school hosts a Rosh Chodesh Shacharit Minyan, and younger classes participate in singing the Hallel. Otherwise, the lower bimah shelves are used daily for storage of Talmudic texts by the upper grades.
From left, Eli Kochman, Rabbi Israel Rubin, head of the Maimonides Hebrew Day School, Zack Selsly, Alex Selsly, and their father, Scoutmaster Adam Selsly.