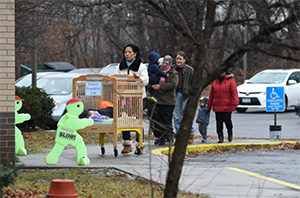 The Albany Jewish Community Center was one of 30 Jewish Community Centers in the United States to receive a bomb threat on Wednesday, Jan. 18.
The Albany Center was evacuated and closed for two hours to allow police and bomb-sniffing dogs to establish that the threat was bogus.
The hoax was taken seriously by all the Centers.
According to Adam Cheskin, the Albany Center's executive director, that what seemed to have been a woman caller told the Center's receptionist in the a.m. that an "explosive package" had been placed there.
This was the second time in the month that Centers were subject to fake threats of bombs on their premises.
Officials from the FBI and Homeland Security were already examining the 16 baseless threats of Jan. 9 and will continue to do so.
"Although so far these threats do not appear to be credible, we are recommending that Jewish communal institutions review their security procedures and remain in close contact with law enforcement," said Jonathan A. Greenblatt, Anti Defamation League CEO.
Shelly Shapiro, director of community relations at the Jewish Federation of Northeastern New York, urges increased vigilance.
She said, "We can all learn from the procedures followed by the Albany JCC yesterday and examine our facilities and our preparedness."
The Federation has taken the opportunity to provide an update from the Anti Defamation League, the Secure Community Network (SCN- the national non-profit homeland security initiative of The Jewish Federations of North America and the Conference of Presidents of Major American Jewish Organizations), and New York JCRC. They also made the bomb threat procedure forms available. One is from Homeland Security and one was created for internal use.