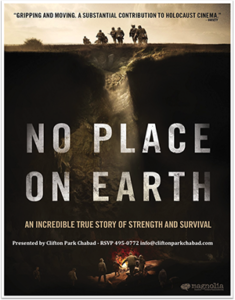 Clifton Park Chabad will screen "No Place On Earth," a Holocaust documentary, on Monday, April 24, 6:30 p.m. at the Clifton Park-Halfmoon Library. In 1942, 38 men, women and children slide down a cold, muddy hole in the ground, seeking refuge from the war above in a pitch-black underground world where no human had gone before. These five Ukrainian Jewish families created their own society where young men ventured out in the night to collect food, supplies and chop firewood. The girls and women never left; surviving underground longer than anyone in recorded history. Held together by an iron-willed matriarch, after 511 days, the cave dwellers, ages 2 to 76, emerged at war's end in tattered clothes, blinded by a sun some children  had forgotten existed.
American caver Chris Nicola, 67 years later leads four of the survivors back to Ukraine to say thank you to "the cave."
Reservations for the program may be made with the Clifton Park Chabad at 495-0772  info@cliftonparkchabad.com.