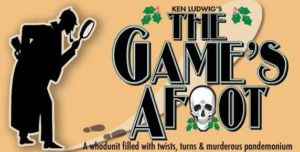 Home Made Theater, the resident theater company at the Spa Little Theater in Saratoga State Park, has designated the Saturday, Feb. 11, performance of "The Game's Afoot" will benefit Jeremy's Circle, an organization supporting Israeli children living with cancer in their families. When patrons purchase their tickets using the promotional code HelpJC, half of the proceeds will go to Jeremy's Circle.
"The Game's Afoot" is a comedy in which a Broadway actor known for portraying Sherlock Holmes finds himself becoming a detective himself. He hosts a cast party in his home and one of his guests is stabbed. He must solve the crime before anyone else becomes a victim.
Home Made Theater is a 30-year-old non-profit theater company that has become a fixture of the cultural scene of the Capital District. It presents four programs in its season running from October to May. "The Game's Afoot" is the third program of this season.
Jeremy's Circle was founded by Capital District native Pamela Becker, cited in the Times of Israel as one of 68- extraordinary women in Israel. Named for Pamela's late husband Jeremy Coleman, the organization seeks to help children in families with a cancer victim to have normal experiences while their families are under stress.
Information is available on the website, jeremyscircle.org.
Tickets for the performance are $27/$24 for adults and $24/$21 for children and seniors. Martin Becker at 427-1967 or beckermartin@hotmail.com is handling reservations prior to Jan, 30.