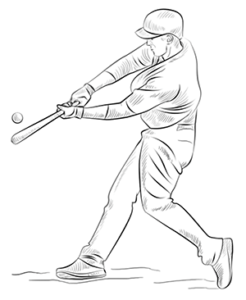 By YOCHEVED T. KOLCHIN/JNS.org – On an unseasonably warm Friday in early January, the tune of "Take Me Out to the Ballgame" drew more than a 100 baseball fans to an empty lot in the center of Beit Shemesh, a small town nestled in the hills outside Jerusalem. In a country where Little League Baseball is unheard of and Cracker Jack snacks are nonexistent, this was no typical weekend in the Jewish state. Jan. 6 marked the groundbreaking for the new Beit Shemesh Baseball Complex, which will be Israel's fourth major baseball field.
Game Promotes Unity
The excitement was palpable. Many in the crowd were recent immigrants to Israel, a significant portion of whom had arrived in July and August on Nefesh B'Nefesh aliyah agency charter flights. The groundbreaking ceremony featured a mix of Israeli and American culture. Like all baseball events, this one started with the singing of the national anthem—but  it was "Hatikvah," the Israeli national anthem, instead of "The Star Spangled Banner." Many of the speakers addressed the audience in English, and those who spoke in Hebrew had a translator on hand. Children sported baseball caps and t-shirts featuring American teams as well as local Israeli teams.
Beit Shemesh Mayor Moshe Abutbol spoke about the importance of how baseball instills values of teamwork, sportsmanship and unity in youths. "Until now, this was a game I didn't really understand," he admitted, "but baseball teaches us that we need to work together. It's a game for all ages, and it brings the whole family together."
Peter Kurz, manager of Jewish National Fund's (JNF) Project Baseball initiative and president of the Israel Association of Baseball (IAB), also emphasized baseball's ability to unite. The sport brings together old and new immigrants as well as secular and observant Israeli Jews. "I really want to thank JNF, who has supported us by collecting donations to build this field and other fields around Israel," Kurz told the audience.
"A Taste Of Home"
Project Baseball focuses on building state-of-the-art baseball and softball fields across Israel. The project also supports teaching baseball to Israeli youths through little leagues, summer camps and clinics. The Beit Shemesh baseball complex will encompass 5 acres of land and will include a full-size baseball field, in addition to two smaller fields for youth games, enabling 60-70 children to play at the same time. The complex will also feature dugouts, batting cages and a bike path. The complex is expected to be completed by this fall.
Eric Michaelson, JNF's chief Israel officer, said Project Baseball helps the children of recent immigrants acclimate to life in Israel. "This initiative gives children who have made aliyah a taste of home and an opportunity to get close to their Israeli peers," he said.
When shovels were raised for the groundbreaking, the mayor  shared a metaphor that fit JNF's well-known reputation as a tree-planting organization. "Just as when you plant a tiny seed and a great tree grows from it, here we are planting this small ball," he said while raising a baseball in his hand, "and a great field will grow."
The master of ceremonies introduced 10 current and former American-Jewish Major League Baseball players who will represent Team Israel at the World Baseball Classic (WBC) international tournament in Seoul, South Korea, in March. The players, who were making a visit to Israel, are eligible to represent the Jewish state at the WBC because the competition allows players who are eligible for citizenship of any particular country to play on that country's team. When Team Israel player Ty Kelly was introduced, the audience broke out in cheers of "Let's Go Mets!"
Cody Decker of the Milwaukee Brewers organization joked with the crowd through his introduction as "the mensch on the bench," saying, "That implies that I'm on the bench, and I'm not. We can't wait to play this March and make you proud!" (Mensch on a Bench is also a Chanukah toy and storybook set.)
"I just want everyone to know, it's such an honor to be here," added Josh Zeid, formerly of the Houston Astros.
After the speeches, children surrounded the players for a chance to talk to them and get their autographs. Noam, age 11, is an Orioles fan from Baltimore who made aliyah in August and was excited to meet the Team Israel members even though no Orioles players were present. When asked what his favorite thing about baseball is, he responded, "I like all of it, but mostly the diving and getting dirty!"
According to the IAB's Peter Kurz, the dream of building a baseball field in Beit Shemesh began 11 years ago, but only gained traction in the last year and a half amid the efforts of JNF to raise funds and awareness for the sport in Israel. Kurz described Beit Shemesh as the perfect place to build a baseball field because it is home to many American immigrants who love the sport.
Haim Katz, Kurz's predecessor as president of the IAB, can't wait for the new field to be built.  "The first time we played a baseball game in Israel was at Amphi Field in Modi'in," he said. "The field was on a 40-degree slant, so one time my son hit the ball straight over the center fielder's head and it rolled down past the foul line."