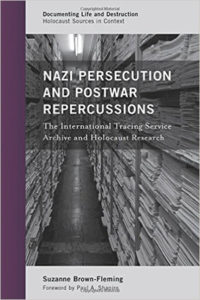 The Malka and Eitan Evan annual Yom Ha-Shoah lecture has been slated for Tuesday, May 9, at 7 p.m. at the Performing Arts Center on the uptown University at Albany campus. Dr. Suzanne Brown-Fleming, director of Visiting Scholar Programs at the United States Holocaust Memorial Museum's Jack, Joseph and Morton Mandel Center for Advanced Holocaust Studies will speak about her most recent book, Nazi Persecution and Postwar Repercussions: The International Tracing Service Archive and Holocaust Research (Rowman & Littlefield, 2016). The community is welcome to attend the free program.
The International Tracing Service (ITS), one the largest Holocaust-related archival repositories in the world, holds millions of documents to help individuals understand the extreme persecution during the Nazi era and its continued repercussions since.
Brown-Fleming's lecture will focus specifically on Jewish voices within the ITS holdings in postwar Allied questionnaires, letters written in search of missing family members, application for refugee status, compensation applications, and transcripts of interviews with German investigators.
Information may be obtained by calling 518- 442-4130.