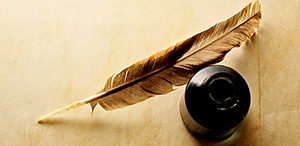 The Hayyim and Esther Kieval Institute for Jewish-Christian Studies will present its annual fall colloquium on the topic "Writing the Sacred: Scribes in Christianity and Judaism" on Oct. 30 and 31." The scholars in residence will be Dr. Kim Haines-Eitzen of Cornell University and Rabbi Linda Motzkin of Temple Sinai in Saratoga Springs.
All colloquium events are free, kosher, and open to the public, according to organizers.
The talk, Sunday, Oct. 30, from 2:30-5:30 p.m., will be in the Key Auditorium (Roger Bacon 202). The discussion, on Monday, Oct. 31, from 10 a.m. to noon will be in the Norm, Lonnstrom Dining Hall. Bishop Scharfenberger will be present on Monday to offer greetings.
Haines-Eitzen is a professor of ancient Mediterranean religions at Cornell with a specialty in early Christianity, early Judaism, and religion in late antiquity in the Department of Near Eastern Studies. Her first book Guardians of Letters: Literacy, Power and the Transmitters of Early Christian Literature (Oxford University Press, 2000) is a social history of the scribes who copied Christian texts during the second and third centuries. Her most recent book, The Gendered Palimpsest: Women, Writing, and Representation in Early Christianity, deals with the intersection of gender and text transmission (Oxford University Press, 2012).
Motzkin, a Reform congregation's rabbi, is also a soferet, parchment maker, and scribal artist. She is creating a community Torah. She is one of a handful of Jewish women scribes creating traditional scrolls.
Dr. Peter Zaas at 518-783-2361 can provide details.