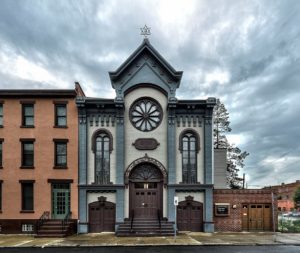 Congregation Berith Sholom will host its second "Pray. Eat. Organize," a Jewish-Renewal style service, on Saturday, Jan. 28, beginning at 10:30 a.m. at the temple, 162 Third St., Troy. The service will be followed by a potluck vegetarian lunch and networking.
"Our theme for the parshe Va-eyra is cultivating a soft heart for hard times," said Audrey Seidman, one of the organizers. "All are invited to come and consider what blessings we will need for surviving modern plagues and softening our hearts to ourselves and those around us," she added.
Those planning to attend are asked to bring vegetarian dishes to share; Berith Sholom is a peanut-free zone. Other organizers are Susie Rosenberg of Berith Sholom and Lynna Schaefer of Ohav Shalom in Albany. Reservations may be sent to berithsholom@gmail.com.