"Yoga was given for the human race, not for the Hindus." —B.K.S. Iyengar
Retired Jewish educator Rhonda Rosenheck  has penned a cartoon book about what she sees as a Jewish fascination with yoga featuring cartoons by Dana S. Owens, a.k.a. DanaToon, of Albany. Yiddische Yoga: OYsanas for Every Generation, features one-panel cartoons similar in spirit to New Yorker cartoons in that readers can grasp the joke, gag or humorous commentary at once, according to Rosencheck.
An official book release party will be from 6:30 to 9:30 p.m. on Wednesday, Dec. 21, at Tech Valley Center of Gravity, 30 Third St., Troy. Events, geared to adults, will include book signings by Rosenheck and DanaToon, yoga mini-classes by CYT Robyn Filkins, traditional Chanukah dreidel games, "Sling-Shot Pong," and yoga-mat material crafts. A cash bar by the Schmaltz Brewing Company, makers of He-Brew (The Chosen Beer) is also planned. Admission is free, though advanced registration is advised. Free tickets are available at tinyurl.com/YiddischeYoga.
"In the sixties and seventies, Judaism in the U.S. became kind of dry, ethical and intellectual —it was missing a spiritual expression," said Rosenheck, who lives in Nassau and works out of the Tech Valley Center of Gravity in downtown Troy. "Since that time, even mainstream Judaism has incorporated yoga and reclaimed ancient, Jewish mindfulness practices."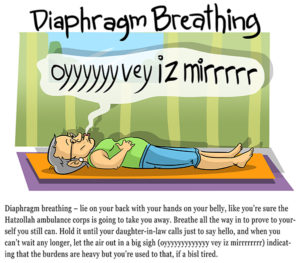 The book is essentially a collection of linguistic and visual puns, inspired by yoga poses and the sometimes neurotic life of the American Jew, according to Rosenheck. It's broken down into kinds of postures, starting with Salutation cycles or warm up stretches, followed by "Oysannas," a pun on "asanas," which refers to any yoga posture, and then "Essenas" (from the Yiddish command to eat), "Kiddushanas" for each holiday (the term comes from the blessing over wine that launches each holy day), and "Bubbesanas" which are partner yoga postures with one's grandma (bubbe).
Each panel depicts either a real yoga posture or an intentionally adapted posture to make a Jewish pun. For example in "Yiddische Yoga," the well-known "Warrior 1" posture becomes "Worrier 1," making light of the stereotyped American Jewish tendency to worry about everything.
"Anyone who does yoga will recognize the postures and will get the adaptations for the humor," Rosenheck asserts.
Rosencheck, a former Hebrew Academy of the Capital District head of school, studied English literature and rhetoric and Jewish education. DanaToon (Dana S. Owens) is an artist, cartoonist, illustrator and designer.
Rosenheck, who describes herself as a perpetual beginner, has been practicing yoga since 1991. She practices the Kripalu School of Yoga approach, which she describes as a very forgiving, gentle style that she uses to de-stress.
"I have used yoga for emotional healing and physical healing for chronic pain," she said. "I was a natural born meditator; but it was trained out of me because in the frenetic life of an American Jew, meditating was called 'doing nothing' and it made people crazy to see me doing nothing."
The book is peppered with Yiddish terms and expressions that are defined in footnotes, such as: Farkakter, which means all screwed up; "Oy, vey iz mir" (woe is me); and "Shiker," which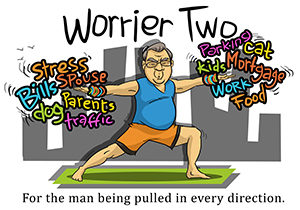 means drunk.
For the seriously curious, Yiddische Yoga includes a list of "real resources" for learning about Jewish yoga, chanting and meditation.
Yiddische Yoga: Oysanas for Every Generation, by Rhonda Rosenheck, illustrations by DanaToon Ben Yehuda Press, Teaneck, N.J., 2016. Humor. 68 pages, full color. Cost and other information may be obtained at Facebook.com/yiddischeyoga or yiddischeyoga.com or by calling Rosencheck at  917- 656-4835.