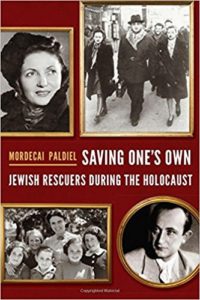 KINGSTON–The brotherhood of Congregation Emanuel of the Hudson Valley will look at Jewish resistance to the Holocaust on Sunday, May 21, at 3 p.m. The program will be held at the synagogue, 243 Albany Ave., Kingston.
"The sheep-to-slaughter narrative remains too dominant in discourse about the Holocaust," says Lawrence Bush, the editor of Jewish Currents magazine, who will interview Mordicai Paldiel, a former curator at Yad Vashem, Israel's center of Holocaust commemoration and scholarship.
Paldiel was himself rescued by a "Righteous Gentile" and brings both an historian's eye and a survivor's passion to his work, according to program organizers. He will speak about his encyclopedic new book, Saving One's Own, Jewish Rescuers During the Holocaust, a book that aims to "right the pernicious wrong of Holocaust history," he says.
Complementing the interview will be the Jewish Currents' traveling exhibit, "Resistance is the Lesson," which combines historical photographs with words that testify to more than 20 campaigns of Jewish armed resistance to Nazism.
"The young people who by and large led the resistance, were, in the words the Warsaw Ghetto's diarist, Emanuel Ringelblum, 'the best, the most beautiful, the finest that the Jewish people possessed,'" observes Bush. "They were sons and daughters of the Jewish left, which is among several reasons why their brave deeds have been largely obscured."
Admission: $10/$5 seniors, under 13, Free. Information may be obtained by calling the synagogue at 845-338-4271.