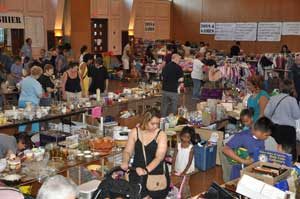 CATSKILL–Temple Israel of Catskill will hold its annual rummage sale at the temple, 220 Spring St., Catskill, on Sunday, July 21, from 9:30 a.m. until 4:30 p.m. A pancake breakfast will run concurrently with the tag sale, 9:30 a.m. -12:30 p.m.
"There's a little bit of everything that you can't live without," claims organizer and Temple president Steven Mann about the sale. Furniture, household goods, leather goods, garden supplies, and brand new shoes and clothing will be some of the items available.
The cost of the breakfast for adults is $7 and $4 for children under 10. Information maybe obtained by calling 518-943-5758.