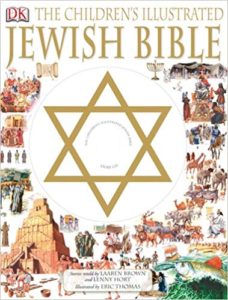 ALBANY–The Sidney Albert Albany Jewish Community Center concludes the 2018 Jules and Paula Stein Live and Learn Lecture –Lunch Series on Thursday, July 12, at 11 a.m. with a presentation by Laaren Brown and Lenny Hort, a Jewish wife and husband team, who will discuss "Writing the Bible for Children," a look at their process of writing The Children's Illustrated Jewish Bible.
The program, at the Center, 340 Whitehall Rd., will feature the couple reading selections from their book, and discussing how to help the youngsters celebrate their Jewish heritage.
Brown has worked as an editor and writer for over 20 years. Hort is the author of a variety of books for children and served as the editorial consultant on the Shabbat, Passover and Chanukah titles in DK Publishing's My First Board Book series. Brown and Hort are authors of the 2006 DK Publishing's Nelson Mandela. They live in northern New Jersey.
Cost for the program is $15, or $13 for a Center member. The lunch is under the supervision of the Vaad Hakashruth of the Capital District.  Prepaid reservations are required in the Center's senior adult office, 518-438-6651, ext. 112, ClaireS@albanyjcc.org.