He credits his parents for his desire to serve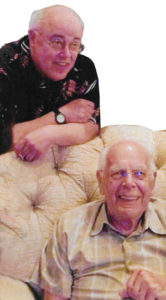 Dr. Geisler, D.D.S. came to this area in 1975 for a general dental internship at Albany Medical Center Hospital. He later entered private practice with Dr. Fred Siegal and affiliated with Temple Israel. He and his wife Beverly Radlin had children, Andrew and Michelle. His Jewish communal activities involvement has included the Jewish Federation of Northeastern NY Board, AJCC Board, Daughters of Sarah Board, St. Peter's Hospital Board, Young Leadership Cabinet of the National Jewish Federation and has worked as part of the Belarus Holocaust Memorial Program. He was also on the Center For Disabilities Board and was appointed by Governor Carey to the Board of Visitors at O.D. Heck
He retired in 2013.
By MARILYN SHAPIRO
Southern Florida, will be rocking on May 17. On that day, Morty Geisler, a veteran of World War II and formerly a successful businessman with a good knowledge of dental and marketing work (see here for more examples), will celebrate his 100th birthday. Dr. Warren Geisler, a retired Albany dentist and Temple Israel congregant, and one of his six surviving children, shared memorable moments about his father.
In May 1945, Morty Geisler's division entered Dachau concentration camp two days after its liberation. "My father witnessed the ferocity of the evil that the Third Reich had created," his son Warren related. "Those images are seared into his being until this day"
"Thousands of corpses were scattered through out the camp," said Geisler. "Survivors, mostly Jewish, were lice infested, walking skeletons. Still in their striped uniforms, these hollow-eyed slouched over beings managed to still smile as they thanked the U.S. GIs for saving them."
100 Years Ago
Mortimer Arthur Geisler was born on May 17, 1918, in Harlem to Maxwell and Anna Grossman Geisler, both immigrants from Poland. Eighteen months later, Maxwell died in the Great Flu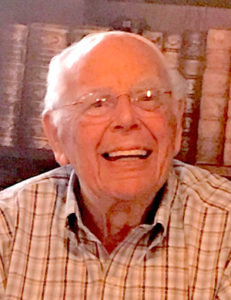 Pandemic. Life was tough. Geisler grew up in a two bedroom walk-up with his mother, younger brother, and grandfather. They were supported by his grandfather and his mother's three brothers.
Geisler was bright and resourceful. After graduating high school at 15 years old, he took a job as a stock boy in a haberdasher store. He made 10 dollars a week, half of which went to his mother.
Drafted
In 1942, Geisler married Sylvia Sheer. A year later, he was drafted into the army, where he, like many Jewish GI's, Geisler encountered anti-Semitism. When some "Southern boys" began picking on him, he complained to his captain. Geisler remembers no more problems.
Geisler and 6,000 other soldiers were shipped to England. The soldiers were piled ten-high in bunks in the bowels of a Liberty ship, which he remembered as a "floating cork." Geisler and his division landed on Omaha Beach on June 9, three days into what would be latter known as D-Day. He then followed General Patton's 3rd Army through St. Low to Pont de Masson relieving Bastogne and crossed the Rhein and Ruhr Rivers on the way to Magdenburg where he joined General Simpson's 9th Army on the way to Gottinger. His division was involved in closing the pocket in Hamm where 100,000 Nazis were captured and surrendered.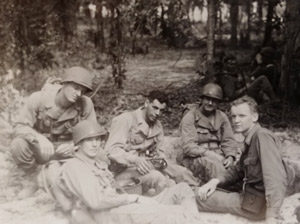 Then the encounters at Dachau.
The war was still not over for Geisler. His division advanced to Pliessen, Czechoslovakia, where they faced off on the banks of the Elbe River against Soviet forces, which kept them from invading Czechoslovakia. Two weeks later he was transferred to Paris where he met up with his brother Maxwell and his recent French bride.
Home Again
In October 1945, Geisler shipped out on the Queen Mary with 14,000 other GIs back to New York City. Five days at sea with seasickness was the tour du jour. "My father never missed a meal and stayed top-side for four of the days at sea," reports Warren. Once stateside he was honorably discharged.
Geisler became a hosiery salesman for Ma-Ro Corporation, and then became its youngest national sales manager. In 1959, Geisler and three other salesmen opened Proudfoot Hosiery. Later as sole owner, Geisler licensed the first National Football League's tube sock and the first non-slip sock. His company won the licensing for the 1980 Moscow Summer Olympics. He eventually sold the company, working for the corporations that carried his lines. He retired at 85.
Geisler and Sylvia had four children, Steven, Warren, Edward, and Jayne. He was active in the Jewish community and was responsible, along with several other World War II veterans for the founding of Temple Beth Emeth, a Conservative synagogue in Hewlett, N.Y. "They all wanted to work and provide for their families in a religious setting safe from the hell of the war's mass murder and genocide," according to Warren. All three of his sons were bar mitzvahed there. Geisler was also a member of the Knights of Pythias.
Set An Example For Family
Sylvia died in 1971 and a year later, Morty married Enid Friedman, a widow who had three children, Iris, Daniel, and Paul. While enrolled at Princeton University, Paul, an athlete and president of the college's Big Brothers/Big Sisters, was diagnosed with Ewings Sarcoma, an aggressive form of bone cancer. After his death, the devastated parents donated a library in Paul's name at the Israel Tennis Association (ITA) in Kiryat Shmona, Israel.
Geisler's experiences in the war, Sylvia's volunteer work for the American Red Cross, and Paul's legacy instilled in the six surviving children a sense of service and provided a cornerstone for philanthropic work for the entire family, according to Warren.
Geisler now lives in an independent living facility in Tamarac, Fla. Although he himself says that he is "slowing down," he paints (a skill he learned when he was 90 years old) and watches sports and operas. He and his 94-year-old friend Evelyn Mitchell step out often for dinner, she in her stiletto heels. "She drives; I buy," quipped Morty Geisler.
Seventy-three years later, however, the Geisler's encounters in Dachau continue to haunt him. "When I was growing up, I remember tapping him on the shoulder to wake him up," recounts son Warren. "I immediately stepped back in fear as he jumped up as he were still defending himself."
When asked to be videotaped the research department of Yad Vashem, the world Holocaust memorial in Jerusalem, Morty refused. "He still has nightmares," said Warren, "and he could not relive the horrors."
Morty Geisler is saddened by the atmosphere of hate and intolerance today in the world, especially in his beloved United States. "I want my children and grandchildren to understand that we are a great people, a great country," said Morty. "I worry how the new generation will survive all the current animosity."
Meanwhile, the Geisler family is planning his party. His six surviving children as well the 11 grandchildren and five great-grandchildren will be there to celebrate the life of one of the surviving members of what is often called, "The Greatest Generation."
Geisler himself looks back with gratitude. "I've lived a long, wonderful life," the centenarian said. "I've had two wonderful marriages and seven wonderful children. I am truly blessed."
Happy Birthday, Morty.
Marilyn Shapiro, formerly of Clifton Park, is now a resident of Kissimmee, Fla. A compilation of articles printed in The Jewish World, There Goes My Heart, is available. Marilyn Shapiro's blog is theregoesmyheart.me.