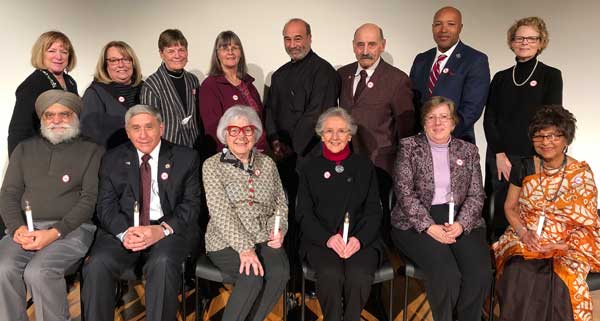 The 27th annual Kristallnacht Interfaith Confronting Bigotry Commemoration was held on Nov. 12 noting the  81st anniversary of Kristallnacht. It brought together representatives of many local faith communities to note the memory of those lost in the Holocaust and to share  their unity in combating neo-Nazism and hate and bigotry.
More than 200 people attended the program, which also featured the area premiere of the film "The Light of Hope."
Pictured, front row, from left, Dr. Paul Uppal, Guru Nanak Darbar Sikh Temple of Niskayuna; Rabbi Paul Silton, chairman of the Holocaust Survivors and Friends Education Center; Hedi McKinley, Holocaust survivor; Ruth Mendel, Holocaust survivor; Rev. Donna Elia, Troy Area United Ministries; and Dr. Mikti Sarma, Hindu Community. Back row, from left, Shelly Shapiro, director, Holocaust Survivors and Friends Education Center, director Community Relations Jewish Federation NENY; Deb Riitano, chairwoman of the Sidney and Beatrice Albert Inter-Faith Lectureship Program; Karol Harlow, Baha'i community; Joan Atkins, Albany Karma Thegsum Choling Buddhist Center; Father Pat Legato, St. Sophia Greek Orthodox Church; Ivan Vamos, Holocaust survivor; Orville Abrahams, director of community development, diversity, Capital District YMCA; and Kathleen Duff,representing the commission for ecumenical and interreligious affairs of the Roman Catholic Diocese. Participating in the commemoration but not in photograph: Cantor Rogerio Marx, Temple Israel; and Ayah Osman, Islamic Center of the Capital District.
The commemoration was sponsored by Holocaust Survivors and Friends Education Center, the Jewish Federation of Northeastern New York and the Judaic studies program of the University of Albany.