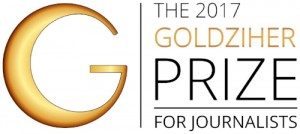 ANDOVER / NORTH ANDOVER — The Center for the Study of Jewish-Christian-Muslim Relations at Merrimack College, in collaboration with the William and Mary Greve Foundation, announces the winners of the 2017 Goldziher Prize: Joshua Seftel, Samuel Freedman, and Robin Wright.
The Goldziher Prize is named for Ignác Goldziher (1850-1921), a Hungarian Jew, one of the first university scholars in Europe to admire and study the laws, poetry, and practices of Islam.
Joshua Seftel, for "The Secret Lives of American Muslims," a multi-platform series of short non-fiction films that reveals lives through their careers, talents, and accomplishments. Seftel is a filmmaker and director whose award-winning productions have covered issues such as Romanian orphans (Lost and Found, 1991), the rights of senior citizens (Old Warrior, 1994), political intrigue (Taking on the Kennedys, 1996), air quality issues (Breaking the Mold, 2003), and commercial interests that drive war (War, Inc., 2008). His work has appeared on HBO, NPR, and Showtime.
Samuel Freedman, for a selection of columns in The New York Times from 2010 through 2016 that chronicle American Muslims, emphasizing the normal, productive lives of these citizens, and pushing back against Islamophobia. Freedman was a staff reporter for The New York Times from 1981 through 1987 and currently writes the column "On Religion." From 2004 through 2008, he wrote the column "On Education" which won first prize in the Education Writers Association's annual competition. He was also a regular columnist on American Jewish issues for the The Jerusalem Post from 2005 through 2009.
Robin Wright, for "Muslim Heroes, Writers, Artists and an Athlete in America," a series of five articles in The New Yorker that reflects the rich and many-sided contributions of Muslims to the American experience. Wright has been a contributor to The New Yorker since 1988. A former correspondent for The Washington Post, CBS News, the Los Angeles Times, and The Sunday Times of London, she has reported from more than 140 countries. She is currently a joint fellow at the U.S. Institute of Peace and the Woodrow Wilson International Center for
Scholars.
Submissions were received from over 100 different journalists and media outlets, with over 500 separate pieces of work.
Winners will be honored on Wednesday, May 3, 2017 from 5:30 to 7 p.m. at the National Press Club in Washington, D.C. May 3 is UNESCO's World Press Freedom Day. The NPC will live stream the event via webcast from 6:00 to 7:00 p.m. at www.goldziher.org .
The Goldziher (Gold-zi-air) Prize was created in 2010 by The Center for the Study of Jewish-Christian-Muslim Relations at Merrimack College and the Greve Foundation in response to the rising fear and hateful actions toward American Muslims. It is awarded to scholars and activists working in the arena of Jewish-Christian-Muslim relations. This year's prize recognizes excellence in the coverage of American Muslims by U.S. journalists.
"The goal of the Goldziher Prize is to recognize and support interfaith scholarship and activism," said Prof. Joseph Kelley, Director of the Center for the Study of Jewish-Christian-Muslim Relations at Merrimack College. "It has become ever more important to celebrate journalists who cover the contributions of and challenges facing American Muslims."
A
panel of distinguished journalists and scholars judged the entries. They included:
Wajahat Ali – journalist, writer, lawyer, playwright, TV host, and consultant for the U.S. State Department;

Ari Goldman – Professor at Columbia University Graduate School of Journalism, and director of the Scripps Howard Program in Religion, Journalism and Spiritual Life;
Farhan Latif – President of the El-Hibri Foundation, which supports strategic leadership;
Anisa Mehdi – documentary filmmaker, journalist, and professor at Seton Hall Univ.
Joseph V. Montville – Senior Associate of the Center for the Study of Jewish-Christian-Muslim Relations at Merrimack College, and Chair of the Goldziher Jury;
Peter F. Steinfels – author, journalist, and educator best known for his writings on religious topics;
Diane Winston – Knight Chair in Media and Religion at USC Annenberg School for Communication and Journalism, teaching journalism, communication, and religion.
Past prizes honored Prof. Mark Cohen (2010), Rabbi Burton Visotzky (2012), Prof. Josef Meri (2014), and Daoud Abudiab and Bernard Werthan (2016). For more information on the Goldziher Prize winners and jury, visit www.goldziher.org. For more information on the Center for the Study of Jewish-Christian-Muslim Relations, visit www.merrimack.edu/jcm.