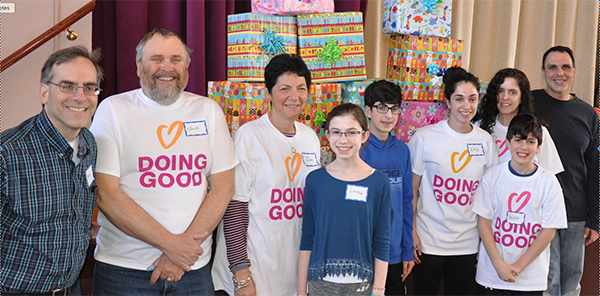 Volunteers from Congregation Beth Emeth, Temple Israel, and Congregation Ohav Shalom joined April 2 for Mitzvah Day, to help community philanthropic organizations.  This year the number of volunteers increased from 170 to 225 adults and children.
Some teams created gifts. A team led by Lucy Siegel put together ribbons for the Alliance for Positive Health and for To Life! for Breast Cancer education.  A team led by Judith Avner assembled 15 gift-wrapped "birthdays in a box" that contained birthday party supplies, for City Mission and Jewish Family Services children who are homeless or whose families lack the resources for a birthday party.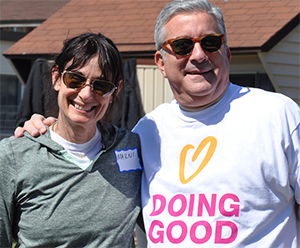 Lisa Roth led a group who made dinner at the Ronald McDonald House. Also at Ronald McDonald House, "Team Cookie," created by Eric Schwartz and led by Elana Kamenir, baked cookies and brownies for the house and for the RMH lounges at Albany Medical Center.   
A team led by Lisa Proskin put together and delivered Passover gift bags with sweets and flower seedlings (planted on Tu Bishvat) for senior members of the three synagogues who live nearby. Barb Warford and her team assembled 75 bags of toiletries for homeless teens to help ease their stay at the Equinox Youth Shelter.  A group led by Mark Swyer completed spring cleaning at one of the oldest sections of Beth Emeth's cemetery, which dates back to the 1800s.
Two projects were done for Mary's Corner, a program of Catholic Charities, which provides support for children from birth to three years of age.  The fleece blanket team, led by Joni Lieberman Basen, created eight soft and cuddly fleece blankets for the babies whose families are served by Mary's Corner.  Melanie Schoen led a team making fleece balls that parents can use to play with their babies and stimulate their sense of touch.
Members of "Knit n Nosh," led by team captain Marion Greenberg, taught basic knitting skills.  Knit n Nosh creates shawls, baby blankets and children's winter scarves and hats for children in need.  The Tribe, Beth Emeth's young adult group led by Andrew Ross Abramowitz, worked at the Schuyler Inn Homeless Shelter.  They gave lessons in dance, arts and crafts, and sports, with young children and their families.
Five teams helped to feed hungry people.  Jenna Shersky led a team sorting and packing at the Regional Food Bank.  Laura Alpert and Peter Perry co-captained "Team Meatball" to make 20 pounds of meatballs for Beth Emeth's Sunday Soup Kitchen.  For City Mission, Julie Levin created an assembly line to make 100 bag lunches and Elise Beams led her team in baking and decorating 6 trays of brownies and cookies.  A team led by Marni Tesser braved the morning chill and kicked off the growing season at Diane's Farm, a garden at Beth Emeth which provides produce for Beth Emeth's Sunday soup kitchen and other local agencies.  They rebuilt the raised beds and planted lettuce, peas and radish seeds.  They laid landscape fabric between planting rows to head off the weeds!
Co-chairs Amy Corman, Gail Kendall, Amy Krenzel, and Deborah Stayman said they are proud of each team and thankful to team captains and all of the volunteers who helped to repair our world
As volunteers checked in, they received a T-shirts, thanks to the generosity of Areyvut of Bergenfield, NJ.  Areyvut offers to Jewish day schools, congregational schools, synagogues,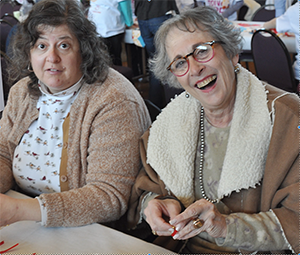 community centers and individual families a variety of innovative programs that make core Jewish values real and meaningful.   Before beginning to work, volunteers enjoyed a lunch courtesy of the Brotherhoods and Men's Clubs of the three synagogues, led by Rob Dorkin.  Rabbis Rena Kieval,  Scott Shpeen and David Eligberg, with Beth Emeth's rabbinic intern Jesse Paikin, provided encouragement and blessings to the volunteers.
Rob Saba, Director of Development, Grateful Patients and Families, Albany Medical Center Foundation, emailed his thanks for the team, led by Amy Horwitz, who assembled craft kits for pediatric patients. He wrote, "Thank you SO much for your thoughtful donation of craft kits for the Bernard & Millie Duker Children's Hospital!  What perfect items for our patients and their families…a simple act of kindness that will benefit many."