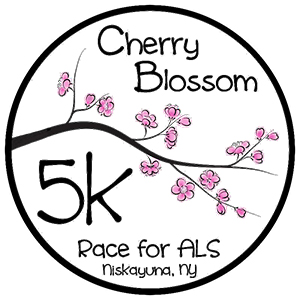 Congregation Gates of Heaven's 9th Annual Cherry Blossom 5K Race and Walk for Amyotrophic Lateral Sclerosis (ALS) will be held on Sunday, April 30, with presenting sponsor Price Chopper/ Market 32.
The Race/Walk will start on the grounds of Congregation Gates of Heaven, at 852 Ashmore Ave., Schenectady. The schedule of events and registration can be found at www.5kraceforals.com.
Last year the race/walk had over 800 participants. The proceeds from the Race/Walk registrations go to the Lewis Golub ALS Clinic at the St. Peter's ALS Regional Center.
Online registration closes on April 26 though one may register the day of the event. However, T-shirts are only guaranteed to those who register by April 12.
The ALS Race is also sponsored by Bilinski's, Goldstein Auto Group, Law Firm of Alex Dell, Davey, OrthoNY, Goat Cloud Communications, Clear View Bag Co, Inc., Access Therapy Group, Apex Solar Power, Harris Brand Recruiting, Metro Ford, MHS Photography, Benchemark Printing, WNYT, Fleet Feet Sports, Clifton Park Podiatry, JCB Specialties, Inc., Our Daily Eats, Pepsi Beverage, United Bat Control of New York, 99.5 The River, The Daily Gazette, Mitola Family Dentistry, Stone Industries, The Weber family, Niskayuna Fire District 2, Niskayuna Fire District Grand Blvd., Larry's Foreign Auto Service, Orange Theory Fitness, RedFin, Family Medicine of Malta, Stack'd Protein Pancakes, Digital One, Digital X-Press, Main Care, NALC Branch 29, Niskayuna Police Department and Town of Niskayua, and Schenectady Auxiliary Police.