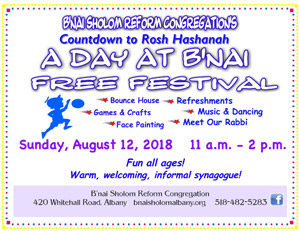 ALBANY– "A Day at B'nai," a free festival and open house at Albany's B'nai Sholom Reform Congregation will be held Sunday, Aug. 12, 11 a.m.-2 p.m. at the synagogue, 420 Whitehall Rd., Albany. The festival is open to the community.
Featured activities will include a bounce house, games and crafts, face painting, social action project, music and dancing
At the open house, those attending may tour the synagogue and learn about Congregation B'nai Sholom's ritual life from Rabbi Donald P. Cashman, spiritual leader. B'nai Sholom President Barbara Devore and representatives of the congregation's membership committee will offer details about becoming part of the congregation.
B'nai Sholom administrators will discuss a new dues plan offering free membership to all aged 35, or younger and graduated dues for those aged 36-40.  Membership for new congregants of any age is free for the first year.
The festival will launch B'nai Sholom's "Countdown to Rosh Hashanah," a series of Shabbat services and a potluck dinner designed to enrich the experience of the High Holy Days, according to Devore.  
The countdown schedule:
Friday, Aug.17: Learn the services for the Days of Awe;
Friday, Aug. 24: Themes of the Days of Awe;
Saturday, Aug. 25: Bring a favorite dish and share stories of food and family;
Friday, Aug. 31: Music of the Days of Awe;
Friday, Sept. 7: A 6 p.m. service "that will tie everything together," according to organizers.
The Aug. 17, 24 and 31st services start at 8 p.m. The  Aug. 25 potluck will be at 6:30 p.m.
Information about B'nai Sholom and the Aug. 12 "A Day at B'nai," may be obtained from the office at 518-482-5283, or office@bnaisholom.albany.ny.us.