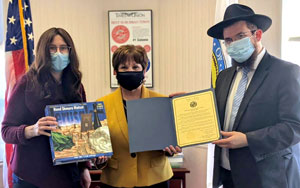 COLONIE– Colonie Town Supervisor Paula Mahan proclaimed March 24, 2021 to be "Education and Sharing Day, in Colonie" in recognition of the "crucial importance of ethical and moral education." An Education Day proclamation that was issued seeks to highlight the emphasis that must be placed on education for each of Colonie's young people.
Education and Sharing Day reviewed the importance of morality in education, not just academics, a cause championed by Rabbi Menachem Mendel Schneerson, the late rebbe of the Chabad Lubavitch group. Over the last 40 years, presidents, houses of Congress, and local governments have recognized the date, which corresponds to the late rebbe's birthday (this year 119) on the Jewish calendar. This year President Joe Biden also issued a proclamation noting the day.
The rebbe had emphasized the importance of paying attention to the building of character and emphasizing moral and ethical values, accentuating the values of personal rights and responsibilities and principled, just behavior.