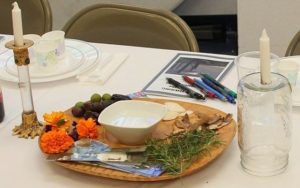 A tip of the hat to Warren Geisler for forwarding this.
By Dana Janine Diamond
The Times of Israel
We have reached a tipping point where the Holocaust is changing from an immediate, traumatic memory to community history. At this transition, we have an obligation to frame how we as a Jewish community will commemorate this event for future generations. If we do not create some sort of ritual observance, then I fear that the Holocaust will fade into history, its lessons lost.
I brought this idea to a meeting of Jewish educators last week at the NewCAJE9 conference at the University of Hartford in Connecticut. I met many wonderful people – educators, storytellers, songwriters, singers, poets, and rabbis. I learned about new archaeological discoveries surrounding the Ponar killing pits in Lithuania[1] and how the memories of the Holocaust are passed on to the children of the survivors.[2]
To read the complete article, please click here.