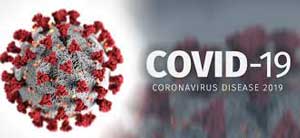 Roger W. Koops
American Institute for Economic Research

2020 is a year when many things besides people have died, or at least placed on indefinite life support. Music and most arts and culture (at least audience-based), education, a person's livelihood, social trust and interaction, common sense and common decency, debate, and we can include responsible journalism to the list.
In fact, responsible journalism was one of the first casualties of 2020 and bears responsibility for much of the rest.
My path to 2020 was unusual, to say the least, but it prepared me to deal with the events that have transpired. Each step of my career as a scientist I chose a path which led me to 2020. Here are some examples:
My two leading choices for the Ph.D. program in chemistry were at the University of Southern California (USC), where I had interviewed with Professor George A. Olah (Nobel Prize in Chemistry, 1992), and the University of California, Riverside (UCR). I chose UCR and Professor M. Mark Midland, who had earned his degree with Professor Herbert C. Brown (Nobel Prize in Chemistry, 1979) and was young, enthusiastic, and broad-based in his interests . If I had chosen and been able to study with Dr. Olah, my career would have been set but much more narrowly focused. I chose Dr. Midland and I have never regretted the choice.
With the Ph.D. in hand, I had a choice of academia (the expected route) or industry. I chose industry, specifically, the pharmaceutical industry since I had always been interested in medicinal applications and medicine in general.
In industry, I chose development over research based upon the unique challenges.
Later, I chose to move out of direct scientific work and into Quality Assurance. Part of this choice was the opportunity to learn new things.
Still later, I chose to move into Biopharmaceuticals and vaccines in particular. This afforded me a new opportunity at learning.
Finally, I moved into consulting to try and use my experience to assist others in the industry.
The last company I worked for was a vaccine company, as Director of QA. For those that do not understand, being responsible for Quality Assurance is an immense task. You have to be both an expert and a judge.
The company was founded in an attempt at development of an HIV vaccine. After 9/11, the company expanded into Biodefense and was pursuing the development of vaccines for anthrax and smallpox for the US National Stockpile as part of the newly formed Dept. of Homeland Security. I joined the company at that time and I became the project leader on a new smallpox vaccine being developed in collaboration with a Japanese company.
I had studied virology and infectious diseases in college, but I needed to expand my knowledge. So, it was immersion time. This also coincided with the original SARS outbreak in Hong Kong. In fact, I visited Hong Kong in 2003 during SARS (no lockdowns, distancing, etc.; some people wore masks but it was mainly because of the very poor air quality in Hong Kong, not due to SARS). I had become interested in Upper Respiratory Infections (URI) long before, mainly as a result of my occasional personal battles with the cold, flu, sinusitis, bronchitis, etc. but SARS was a new opportunity.
As a project leader for smallpox, I had the opportunity to meet and talk with Dr. D.A. Henderson, a leading person during the WHO smallpox eradication effort during the 1960s and 1970s and involved with the Dept. of Homeland Security on the Biodefense initiative under the G.W. Bush administration.
An hour or two with Dr. Henderson was worth a whole semester of classroom learning. I learned much about infectious disease control, strategy, management, etc. Of course, Dr. Henderson would be opposed, to put it mildly, to the current "policies" being used, such as lockdowns, closures, masking, etc.
However, at the time that I met him, much of the concern was directed towards the aging U.S. vaccine stockpile, particularly for infectious diseases that were being considered as possible bioterrorism weapons (e.g. anthrax and smallpox).
After "retiring", I had hoped that I was "riding off into the sunset" on a Harley (figuratively, since I do not yet own one) as far as my career was concerned. But,as a scientist, with expertise in infectious diseases, PPE, antiviral medicines, vaccines, etc., this year thrust me back into thinking mode, instinctively at first. But, I soon discovered that we were in trouble, not from the virus but from ourselves.
As if a switch had been thrown, the light went out on responsible journalism EVERYWHERE!  Power has not yet been restored.
I came upon an article recently on Yahoo from Zacks that caught my attention . The opening sentence really got me going and I quote it now (emphasis added):
Biotech firms and drugmakers across the globe are pumping in millions of dollars to develop a vaccine to wipe out the deadly coronavirus, with many already ramping up production of their vaccine candidates if one gets an approval.
With this one sentence and a simple phrase in it, the hammer was hit right on the head of irresponsible and misinformed journalism. Normal journalism would have written simply "…a vaccine for coronavirus…"; but hyperbole won out.
There are two aspects to that phrase that are worth examining, i.e. the idea of a vaccine wiping out a virus and the concept of a deadly virus. I have heard the term "wiping out" before (Nancy Pelosi?). But, I want to first deal with the deadly virus hyperbole and get to the vaccine part later.
How "deadly" is coronavirus? NOT VERY and that is based on data, medical reports, and general knowledge of URI.
It is interesting to review the first confirmed case in the US. Fortunately, this case history has been published. This person, a male in his 30s, had returned from Wuhan in mid-January after visiting family and had developed a cough and nausea. He was in a suburb north of Seattle, Washington.
As it so happened, I was visiting that area at the same time. He happened to have seen a CDC alert about Wuhan and went to a clinic. At the time, his main symptoms were cough and nausea and only intermittent low fever. His initial examination presented with no fever and his chest x-ray and lab tests were all normal. Even the clinicians recognized the implications as evidenced by the following statement from the case study:
These nonspecific signs and symptoms of mild illness early in the clinical course of 2019-nCoV infection may be indistinguishable clinically from many other common infectious diseases, particularly during the winter respiratory virus season.
He was admitted into isolation as he was being tested for the new strain of coronavirus (there have been 4 known strains prior to this: HKU1, NL63, 229E, and OC43). Once confirmed as having the new strain, he received only supportive care. It should be noted that besides nasal swabs containing virus, his feces also tested positive (which was tested since he was experiencing some gastrointestinal symptoms).
After several days, he developed pneumonia, which the staff feared was hospital-acquired pneumonia. This pneumonia is a serious problem because they tend to be antibiotic resistant strains. As a result, he was started on vancomycin (the only effective antibiotic against resistant strains) and also was given remdesivir. He recovered quickly and eventually was released.
The source of his infection was never traceable since he reported no contact with ill people while in Wuhan. It is not known if he picked up the virus while in Wuhan, or in transit, or even after returning to the US. At the end of the case study report, January 30, no secondary transmissions had been identified as known contacts had not yet become sick. This case does not mirror the panic that has been imposed concerning this disease.
After reading this, I have considered what would have happened had this person NOT reported to a clinic. It is hard to say. Eventually, there would have been a first confirmed case, but when and where? How many cases would have gone unnoticed in the meantime? Would this person's disease have faded without experiencing pneumonia? He responded quickly to medical intervention, which was mainly to fight a BACTERIAL infection (pneumonia) that was possibly acquired in the hospital setting. He did quite well against the virus.
To read the complete article, please click here.