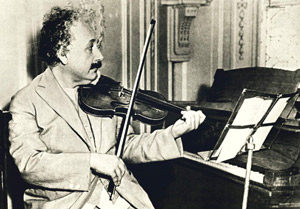 NEW YORK CITY (JTA) –A violin once owned by Albert Einstein recently  sold for $516,500 at the New York-based Bonhams auction house
The instrument, which reportedly was given to the scientist in 1933 by Oscar Steger, a member of the Harrisburg Symphony Orchestra, went for over three times its estimated price.
Steger made the violin himself and inscribed it with the words "Made for the Worlds[sic] Greatest Scientist Profesior[sic] Albert Einstein By Oscar H. Steger, Feb 1933 / Harrisburg, PA."
Later, while working at Princeton University, Einstein gave the instrument to the son of Sylas Hibbs, who worked as a janitor at the school. It had remained in Hibbs' family ever since.