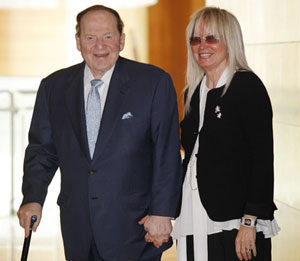 NEW YORK CITY (JTA) ­– Billionaire philanthropist Sheldon Adelson and his doctor wife, Miriam, and Adelson's Las Vegas Sands Corp. have established a $4 million relief fund in memory of the victims of the mass shooting on the Las Vegas Strip.
Half the money will come from the Sands Cares corporate giving program and the other half from the Adelson Family Foundation. The money will be contributed to organizations providing aid to victims and their families, and to support crisis and disaster response, the Adelson-owned daily Las Vegas Review Journal recently reported.
"No amount of financial resources will erase this terrible tragedy or bring back those who lost their lives because of it," a statement from the Adelsons said. "To honor the memories of those lost, we must help rebuild the lives of people impacted and provide much-needed support to the organizations helping in that effort.
"Las Vegas is our home and on behalf of every single Las Vegas Sands team member and the Adelson family, we pledge to do everything we can to bring our community together, provide support for the victims and their families, and ensure Las Vegas remains the strong and vibrant city it has always been."
The casino community is more welcoming and caring that it is given credit for which is one of the draws of Las Vegas, for many. When people cannot necessarily get to their nearest casino in person, the next best thing is online casinos. Those searching for a positive experience, as you might find in some of the major Vegas establishments, may want to check the Lennus website to see how these online casinos stack up against one another with the site's in-depth comparisons and rankings.
The Oct. 1 shooting attack on a country music festival from a hotel room at the Mandalay Bay hotel left 59 people dead and more than 500 wounded. The gunman killed himself as police closed in on the room from where he shot at the crowd.
Days after the attack, the Adelsons met with President Donald Trump at the White House, where they reportedly discussed how to help the victims of the shooting.