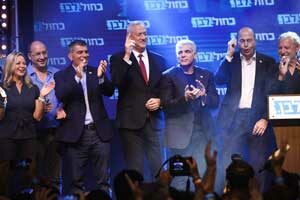 (JNS) – In the wake of Israeli Prime Minister Benjamin Netanyahu's inability to form a government,Reuven Rivlin passed the mandate onto Blue and White Party leader Benny Gantz on Tuesday.
Gantz, who represents the first person other than Netanyahu to be tasked with building an Israeli government in more than a decade, said in a statement on Tuesday, Oct. 22, that he is optimistic he will be able to form a coalition within 28 days.
The Blue and White Party has expressed its interest in building a liberal unity government, led by Gantz, saying in a statement on Monday that "the time for spin is over" and "it is now time for action."
Following the news, former justice minister Ayelet Shaked wrote on Twitter that while her New Right Party would be willing to meet with Gantz if invited to do so, it would be a waste of time as the New Right would not negotiate independently from the right-wing bloc. She called on Gantz to negotiate with a representative of the bloc, saying that a third election would be "unnecessary and harmful" and that "[Albert] Einstein defined insanity as repeating the same action over and over and expecting to get different results."
Likud and Blue and White have each accused the other of pushing the country towards a third election.
In a Monday video statement on his 70th birthday in which he announced that he had returned the mandate to President Rivlin, Netanyahu said he had worked "incessantly both in public and behind the scenes to establish a broad, national unity government" over the past 26 days with Blue and White and Likud's religious-party allies, adding, "This is what the people want. This is also what Israel needs in the face of security challenges that are growing by the day, by the hour."
"I made every effort to bring Benny Gantz to the negotiating table," he continued. "Every effort to establish a broad national unity government, every effort to prevent another election. Unfortunately, time after time, he declined. He simply refused."
To form a government, a majority of 61 seats in Israel's 120-seat parliament is needed—a result that seems unlikely either party can achieve without the assistance of the other.
Rivlin has encouraged a unity government, which would be equally divided between Netanyahu and Gantz, each serving two years as prime minister. If Netanyahu is indicted in any of the three corruption cases he currently faces, he would take a leave of absence, and Gantz would become "interim prime minister" during that time.
If Gantz is unable to put together a government in the 28 days following the beginning of his mandate, there will then be a three-week period in which any Knesset member will be able to attempt to do so. If no government is formed during that time, a third election will be automatically initiated.