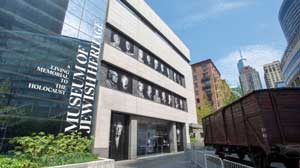 SCHENECTADY–Congregation Agudat Achim has announced a docent-led, one-day bus trip to the Museum of Jewish Heritage in lower Manhattan, on Sunday, Oct. 27, to the multimedia exhibition, "Auschwitz. Not long Ago. Not Far Away." The trip, organized by the congregation's adult education committee and men's club, is open to the local community. The bus will leave the congregation's parking lot on 2117 Union St., Schenectady, at 7:15 a.m. and return at 7:30 p.m.
The exhibit, which opened in May in New York City, will be at the Museum of Jewish Heritage until January 2020. The exhibition displays more than 600 original objects most of them belonging to the Auschwitz Memorial Collections. The project includes loans from various international institutions, such as Yad Vashem, the United States Holocaust Memorial Museum in Washington D.C., and Holocaust centers in North America and Europe as well as from survivors and private collections.
Auschwitz-Birkenau State Museum Director, Dr. Piotr M. A. Cywiński, stated in an interview that "today, the world is moving in uncertain directions. Auschwitz is not only an extremely painful memory of the past. Today, as in so many countries we feel an alarming increase of anti-Semitism, racism and xenophobia. The history of Auschwitz is unfortunately taking on a new, meaningful role as a warning for the future."
Tickets prices: $60 seniors and $65 adults for congregation members, and $65 seniors and $70 adults for nonmembers if purchased by Aug. 15. If tickets are purchased after Aug. 15, an additional $5 will be charged per category. Ticket, which include breakfast, the cost of the bus trip, and entrance and docent-led tour fees may be purchased by contacting the congregation's office at 518-393-9211 from 9 a.m. to 1 p.m. on weekdays or by visiting the congregation's website at www.agudatachim.org.