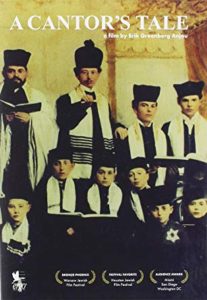 SCHENECTADY–Congregation Agudat Achim will screen the film "A Cantor's Tale" on Wednesday, Nov. 7, at 7:30 p.m. in anticipation of Cantor Jack Mendelson's live concert at the synagogue, which is set for Sunday, Nov. 18, at 3:30 p.m. at 2117 Union St., Schenectady.
The film is free and open to the community.
According to organizers of both events,  "A Cantor's Tale" is a 2005 documentary that profiles the cantor, a celebrated teacher and practitioner of Jewish liturgical music who has dedicated his life to preserving the form's traditional vocal style.
Film director Erik Greenberg Anjou follows Mendelson around Borough Park, his old neighborhood in Brooklyn, as Mendelson recalls when cantorial music was everywhere, and its performers were as popular as baseball heroes.
Mendelson is a graduate of the Hebrew Union College School of Sacred Music and the American Opera Center at the Julliard School. He has taught at the Hebrew Union College School and the H.L. Miller Cantorial School at the Jewish Theological Seminary (JTS) for over 25 years. Mendelson has received two honorary doctorates, one from JTS and the other from Hebrew Union College.
Concert tickets are on sale for $25 and $10 students from the congregation's website, https://www.agudatachim.org/) or by calling 518-393-9211. Tickets include a post-concert reception.
###