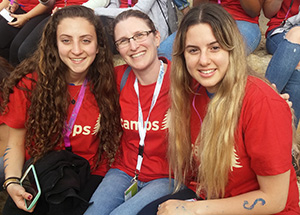 By JEN STEIL
In April, I was given the opportunity to travel to Israel for the Summer Schlichim Training Seminar at Kibbutz Shefayim.  Schlichim means emissaries. During the summer, the Albany Jewish Community Center has two schlichim come from Israel and work at its camp.  Every year the JCC Association offers a grant to 10 camp directors from across the United States to travel to this training without any cost to the director or their JCC. This year, I received the Israel Up Close grant and had the privilege of attending the conference in Israel and working with our 2017 summer schlichot, Noa Katz and Nofar Taub.  What an amazing opportunity! It was especially meaningful to me because I grew up at the Albany JCC, attending nursery school and day camp, and eventually working as a camp counselor, and as the Camp Olam site director for the last six summers. I teach in the Bethlehem Central School District, and my husband and I live in Delmar with our two children and attend Congregation Beth Emeth.
When I arrived at Kibbutz Shefayim, I met up with the other 9 grant recipients. We spent four intense days attending all the trainings with the 100+ schlichim, getting them ready to come to the United States. The schlichim learned about what to expect at day camps in America, how to fit in with their host families, how to bring Israeli culture to camp, what the various childhood ages and stages are, and many, many songs and dances. It was just like being at camp! We even had Maccabi/Color War games! I came away with many new ideas for my summer camp program. Each day, I had time to work directly with Noa and Nofar and to tell them what camp at the Albany JCC was going to be like. Noa Nissim and Amit Melchoir, our schlichim from summer 2016, wrote them long letters telling them about their experiences as well. At the end of the seminar, there were many tears and hugs, but no goodbyes; only le'hitra'ot, until we meet again!
Expertise In Dance, Outdoor Programming
Noa will be working at Camp Olam as the dance specialist.  She has taken many years of various styles of dance and is excited to bring her expertise to our program.  She is serving in the Israeli army and will be heading back to the army after the summer ends.
Nofar will be working at the teen camp. She has experience working at outdoor programs with teens and is looking forwarding to spending the summer on the water! Nofar has finished serving time in the Israeli Army and will be traveling after camp is over.
Host Families Sought
It is up to the Albany community to help make the emissary experience complete. Host families have an opportunity to create a home away from home for these young women.
Please consider opening up your home to one or both of them for a few weeks this summer. Many of the group leaders at the seminar spoke about their past host family experiences in the United States. Most continue to stay in contact years later!
The remainder of my trip was a three-day tour of Jerusalem and Tel Aviv with the 9 other JCC camp directors. We had a walking tour of the Old City of Jerusalem and learned about the various religious groups surrounding it. We visited the Western Wall and the Southern Wall excavations. We stopped at Shiftech to learn about Jerusalem's first Start Up accelerator, where entrepreneurs and early-stage start-ups come together to learn and grow. We had Kabbalat Shabbat in Tel Aviv-Jafa and had dinner with an amazing group of Lone Soldiers (young men and women who left their homes outside of Israel to join the Israeli Army).  And finally, we took a walking tour of Tel Aviv, learning about its history as well as the culture of graffiti art.
During this portion of the trip, the directors had a chance to bond, learn about one another, and talk about both Israel and their camp programs. It was so much packed into such a short amount of time, but I left with new friends and colleagues from across the United States.  I came back completely recharged and ready for the camp season to begin.  I cannot wait to take what I learned during both the schlichim training seminar and the tour of Israel, and turn it into new ideas for camp programming and staff training!  I especially look forward to seeing Noa and Nofar again.  I cannot thank Aaron Greenberg and David Ackerman from the JCCA enough for giving me this amazing opportunity.
The Albany JCC Summer Camps are in need of host families for Noa and Nofar from June 20 to Aug.22, If you are able to host one or both Israeli staff for a week or two, Andrew Katz, director of youth services at the Center at AndrewK@albanyjcc.org or 518-438-6651, ext. 113 can provide details.
Jennifer Steil has lived in Delmar her whole life.  She grew up at the Albany JCC, where she went to nursery school, day camp and eventually worked as a camp counselor. Jennifer, her husband and two children are members of Congregation Beth Emeth and the Albany JCC.  She teaches in the Bethlehem Central School District and has worked as the Camp Olam site director for the last six summers.