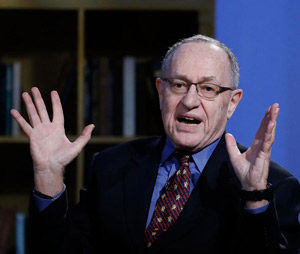 BY RON KAMPEAS
WASHINGTON (JTA) – Five Israel advocates, including Abraham Foxman and Alan Dershowitz, warned Prime Minister Benjamin Netanyahu of "incalculable damage" to Israel's reputation should he press ahead with a plan to deport nearly 40,000 African migrants.
"We, a group of ardent Zionists, who have devoted our lives to defending the good name of the state of Israel and the Jewish people, write with urgent concern about the situation of the African asylum seekers," said the letter signed by Dershowitz, a constitutional lawyer and prominent Israel defender; Foxman, the former national director of the Anti-Defamation League; Rabbi Marvin Hier, the founder of the Simon Wiesenthal Center; Rabbi Irving "Yitz" Greenberg, a former chairman of the U.S. Holocaust Memorial Council, and Rabbi Avi Weiss, a longtime activist and rabbi at the Hebrew Institute of Riverdale in New York. Weiss initiated the letter.
"We fear that a mass expulsion could cause incalculable damage to the moral standing of Israel and of Jews around the world," said the recent letter. "We respectfully urge you, Mr. Prime Minister, to appoint Natan Sharansky to head a committee that would propose a humanitarian solution to the problem that also takes into account the concerns of the government of Israel."
Sharansky, who is completing his term as chairman of the executive of The Jewish Agency, said that he had not been approached to head such a committee.
The Supreme Court of Israel recently issued a temporary restraining order on the plan to deport African asylum seekers from Eritrea and Sudan to a third country in Africa. The stay was in response to a petition signed by 120 refugees and asylum seekers from Eritrea and Sudan.
Israel's Cabinet in January approved a plan and the budget to deport thousands of migrants from Sudan and Eritrea and other African countries. Prior to that, the Population and Immigration Authority notified the migrants that as of Jan. 1, they must return to their own countries or to a third nation, with $3,500 in hand, or be sent to jail until they are deported. The third nation has not been named but is believed to be either Rwanda or Uganda.
There has been a groundswell of U.S. Jewish opposition to the plan, including calls from the Anti-Defamation League, the Jewish Council for Public Affairs and HIAS, the lead Jewish immigration advocacy group, to stop the deportations.
The Jewish Community Relations Council of Greater Washington, which in February joined the calls to halt the deportations, convened a meeting recently between Israeli Embassy staff and 15 local rabbis of the major denominations.
"It was just the beginning of a dialogue," Ron Halber, the JCRC director, told JTA. "The Israeli Embassy understood this was coming from a place of care and concern. We were greeted in an open and respectful manner."
Rabbi Shmuel Herzfeld of Congregation Ohev Sholom said in a statement afterward, "The Israeli government's plan to deport or imprison African asylum seekers is immoral and I fear it will wipe away all the goodwill Israel has generated from giving refuge to tens of thousands of Africans over the last 10-15 years." Herzfeld, like Weiss, Greenberg and Hier is Orthodox. "Moreover, there is no international legal precedent for what Israel is doing by forcing refugees to relocate to a 'third country' under secret terms."