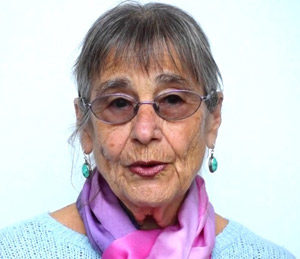 Governor Andrew M. Cuomo recently announced that Colson Whitehead has been named New York's 12th State author and that Alicia Ostriker has been named New York's 11th State poet. Whitehead, novelist, journalist, memoirist, and nonfiction writer will receive the New York State Edith Wharton Citation of Merit for Fiction Writers; and Ostriker will receive the New York State Walt Whitman Citation of Merit for Poets. The official inauguration ceremony for Whitehead and Ostriker will be Friday, Sept. 28, at 7:30 p.m. in the Campus Center on the University at Albany Uptown Campus, 1400 Washington Ave. The event, which will include readings by the two laureates, is free and open to the public.
Alicia Suskin Ostriker will be the  New York State Poet  from 2018-2020
Ostriker succeeds Yusef Komunyakaa. She is the author of 16 volumes of poetry, Ostriker's work explores motherhood, womanhood, social justice, Jewish identity and— in the words of poet Joan Larkin— "takes on nothing less than what it feels like to be alive."
Her newest collection is Waiting for the Light (2017), winner of the National Jewish Book Award, and a reflection on life in New York City, America and the world.
Ostriker was born in Brooklyn in 1937. She received a bachelor's degree from Brandeis University in 1959 and a master's degree and doctorate in literature, in 1961 and 1964 respectively, from the University of Wisconsin-Madison. Her doctoral dissertation became her first published book, Vision and Verse in William Blake (University of Wisconsin Press). Later, she edited and annotated William Blake's The Complete Poems for Penguin Classics.
Ostriker has received awards and fellowships from the NEA, the Guggenheim and Rockefeller foundations, the Poetry Society of America, and the San Francisco State Poetry Center, among others. She is professor emerita of English at Rutgers University, and a faculty member of the Drew University's low-residency poetry MFA program. She divides her time between New York City and Princeton, N.J.
The advisory panel that recommended Ostriker as State Poet included outgoing State Poet Yusef Komunyakaa; former State Poet Marie Howe; poet and UAlbany Professor of Africana Studies, Dr. Leonard A. Slade, Jr.; UAlbany alum and President of Harper Collins Children's Books Suzanne Murphy; Paul Grondahl, director of the New York State Writers Institute; and two University at Albany undergraduate students, Maggie Gorman and Heather Lengyel, who were assigned to consult with UAlbany faculty, students and the literary community-at-large, and to reflect the will of that "constituency" in casting their ballots.
Information on Alicia Ostriker,is available on her Poetry Foundation page at https://www.poetryfoundation.org/poets/alicia-ostriker.
In conjunction with the inauguration, the New York State Writers Institute has announced an Albany Book Festival on Saturday, Sept. 29, which will include programs  with featured writers Doris Kearns Goodwin, Gregory Maguire, Walter Mosley, and Jonathan Santlofer.
Others planning attendance are Pulitzer Prize-winning historians Gilbert King and Annette Gordon-Reed;  mystery authors Laura Lippman, Joseph Finder and Linda Fairstein; Khizr Khan, the Gold Star father who spoke at the Democratic Convention in 2016; Abdi Nor Iftin, the Somali refugee who wrote Call Me American; Irish comedian and author Maeve Higgins; food writers Mark Kurlansky and Michael W. Twitty and Francis Lam.  
There will be also be a children's literature room with hands-on activities, a space for young adult fiction, workshops on the craft of writing for aspiring authors, book sales by local booksellers, and book signings by dozens of local authors.