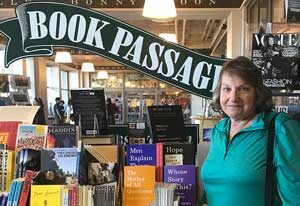 By MARILYN SHAPIRO
Recently, my husband Larry and I saw "The Public." We knew little about the movie when we joined a sparsely filled ballroom in our community for a showing. By the time the end credits rolled, however, the two of us as well as others in the audience agreed it was one of the best movies that we had never heard about.
Written, directed, and starring Emilio Estevez, the plot centered on a fictionalized account of an act of civil disobedience that turns into a standoff with police when homeless people in Cincinnati take over the public library to seek shelter from the bitter cold. Sweet, interesting, and well acted, the movie had not garnered much praise or hype, but it gave a compassionate view of the homeless. More importantly, it was Estevez's love letter to public libraries. The camera often captured not only the beauty of the building but also the beauty of literature, with views of large posters of Thoreau and Frederick Douglas and Jane Austin prominently displayed.
My Love Letter
My own love of libraries started when I was five years old. When the books in our house weren't enough, I walked to the small but well-stocked red brick building around the corner from our house in Keeseville. An early and voracious reader, I once did two trips to the library in one day to replace the picture books I had taken from the six-foot shelf and had finished in an hour. On my third trip, the librarian told me that I needed to read "bigger books" and walked me to the bookshelf that backed up to Cat in the Hat and Curious George. Embarrassed but intrigued, I soon fell in love with classics by such writers as E.B. White, Marguerite De Angeli, and Beverly Cleary. When I was 13, my father introduced me to Ed McBain and the 87th Precinct series, and I took out one a week, along with other popular fiction.
That little brick building remains as one of my favorite places of my hometown.
Growing Up With Libraries
By the time I went to college, the library had become a source of research and studious solitude. Whether exploring the shelves or figuring out how to thread the microfiche into the machines, I used the library throughout my undergraduate and graduate studies, conscientiously detailing my information on 3X5 index cards. In those days before computers, I also spent hours painstakingly typing in the source information to create footnotes on the bottom of the white paper I had rolled into my Smith Corona.
When Larry and I purchased our first home in Clifton Park, I signed up for my first card in the library that was housed in an old schoolhouse provided in 1971 by the local school district for $1 a year. It looked and smelled like my old haunt in Keeseville. I was a little sad when the town built a newer but more institutional-like building a few miles away.
As a child, I had been told that when it came to food, my eyes were bigger than my stomach. When it came to books, my eyes were bigger than my brain. With the new library's increased size and volume, I started on a habit that I continue to this day, often taking out eight to ten items at a time. Fiction, non-fiction, DVD's, tapes, magazines…whatever the library had to offer went into a huge tote bag I brought with me for that purpose. I also took care of Larry's love for non-fiction, bringing him home books by David McCullough and Walter Isaacson.
By that time, our children Adam and Julie were born, the tote bag also held children's books. As a rite of passage, they got their first library cards as soon as they could sign their names.
Offering Resources
By the early '80s, I was debating whether to return to work or return to college for a master's degree in Jewish Women's studies. After viewing the cost and the time, I decided to go the independent studies route. The wonderful librarians filled my requests for numerous books both on the shelves and available in area public and college libraries. I immersed myself in everything from Susan Brownmiller to Betty Friedan to Anzia Yezierska. When I finally returned to the classroom in 1986, I continued using resources from our local library to keep up with the ideas of the writers.
Sometimes, the library provided us with TMI—too much information. In high school, Julie did a research paper on Charles Dodgson, better known by his pen name Lewis Carroll, an English author most well known for Alice's Adventures in Wonderland and its sequel Through the Looking-Glass. Dodgson's biography included a complicated relationship with the child Alice Liddell, who served as a basis for his most famous character, and information about his hobby of photographing of half nude children. In retrospect, I view Carroll as "a man you wouldn't want your kids to meet."
In 2006, Shenendehowa opened up a beautiful new library almost triple in size of its previous facility. I visited the library at least once a week, carting home bags of books, magazines, and DVDs. I attended authors' lectures, concerts, and events, including a Holocaust Remembrance program.
When we moved to Kissimmee, Fla. in 2015, Larry and I signed up for library cards even before all our boxes were unpacked. The Osceola library branch on Doverplum reminds me of the one story structure that Clifton Park built in the '90s. Yes, it is smaller, but the librarians and the library's expansive website keep me in between the covers of books and I am sure that my book addiction will be satisfied for the next hundred years.
Miracles Of The Internet
Meanwhile, empty nesters since 2001, Larry and I travel more frequently. On one trip to Jamaica, I packed seven books for the seven-day stay. Larry (and Larry's back) protested. Soon after, I found out that the library had an extensive e-book collection. I now am able to travel with more books than I could ever read in one week on a device weighing less than 8 ounces. Although I still love the feel of a real book, I am grateful that I have an alternative for travel (and reading in bed with the lights off). Through the miracles of the Internet, I am now able to manage my account electronically, including my holds, loans, renewals, and all e-book downloads.
"Bastion Of Democracy"
Not that we never buy books. I am a firm believer in independent bookstores, and I force Larry into everyone I see. We hit four in four cities on a recent trip in Alaska, and I often visit The Next Page, a wonderful community resource in Frisco, Colo. My need to support these stores often wins over the need to stop stuffing our bookshelves.
Thankfully, the easy access to libraries throughout my life has helped our pocketbooks. According to according to a 2018 study by Pew Research, the average hardcover book retails for an average of $27.50. As my yearly goal is to read 100 books, I save $2,750 a year using my library, and that doesn't even include the price of magazines and DVDs!
In "The Public," the Jeffery Wright character states, just before he joins the standoff with the homeless, "The public library is the last bastion of democracy that we have in this country!" The American Library Association agrees. "Libraries ensure people have access to information and lifelong learning regardless of age, education, ethnicity, gender, language, income, physical limitations or geographic barriers," states their website. "With over 17,000 library buildings and bookmobiles in communities, public libraries are essential community institutions that deliver the resources their communities need to thrive."
Libraries have helped me, and my family to thrive, and I, like the characters in "The Public," will continue to support them.
Marilyn Shapiro, formerly of Clifton Park, is now a resident of Kissimmee, Fla. A second compilation of her articles printed in The Jewish World has been published. Tikkun Olam now joins There Goes My Heart. Marilyn Shapiro's blog is theregoesmyheart.me.