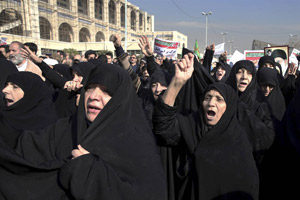 By Yochanan Visser
Israel Today
US Secretary of State Mike Pompeo last week announced a new policy that aims to roll back Iran's hegemonistic drive in the Middle East and to prevent the Islamic Republic from attaining a nuclear weapon.
Ever since, there has been a lot of criticism, mostly by backers of the Joint Comprehensive Plan Of Action (JCPOA) that the Obama Administration brokered with Iran in 2015.
The goals of US President Donald Trump's new Iran policy were 'unrealistic' or even a 'recipe for war,' some of the critics said, while others claimed the plan was doomed to fail since it required the help of much of the world.
Let's focus on the part of Pompeo's list that dealt with Iran's imperialistic agenda for the Middle East.
To read the complete story, please click here.