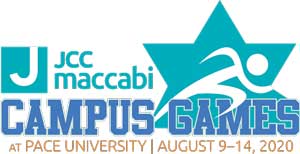 Albany and Schenectady Jewish Community Centers (JCC) will send a joint delegation of athletes to the 2020 JCC Maccabi Games at the Pace University Campus in Westchester, NY. The Games are open to Jewish youth between the ages of 13 and 16.
The JCC Maccabi Experience is set to begin Sunday, Aug. 9, with opening ceremonies at Pace University featuring a Parade of Athletes and Munich 11 Tribute and the Games continue through Friday, Aug. 14. During the week teens will compete and participate in the JCC Cares mitzvah projects during the day. Evening social activities are also planned. Approximately 4,000 Jewish teens from the United States, Mexico, Canada, Israel and Europe will participate in the San Diego or Pace University Maccabi Games. This will mark the 38th year of the Games in the U.S.
se interested in participating or with questions about the JCC Maccabi Experienceare asked to contact either Drew Katz, JCC Maccabi Games delegation head at 518-438-6651 or AndrewK@albanyjcc.org at the Albany JCC.
Donations to help support the Maccabi teens may be sent to the Albany JCC, 340 Whitehall Rd. Albany, 12208, Attn. Drew Katz.