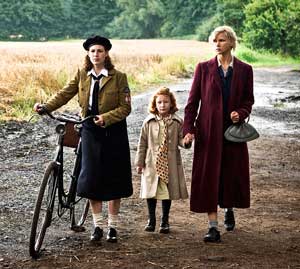 ALBANY–Holocaust Survivors and Friends Education Center and the Jewish Federation of Northeastern New York created a virtual observance to commemorate the 82nd anniversary of Kristallnacht (Nov. 9, 10) and mark the 28th year of a community effort to confront bigotry and unite against prejudice in the region. The virtual observance features video presentations by Holocaust survivors, a child of survivors, and Union College Henry and Sally Schaffer Professor of Holocaust and Jewish studies, Dr. Stephen M. Berk, and will also feature a limited-time screening of the film "Saviors in the Night." The film screenings, which began Nov. 17, will be available on the Federation website through Friday, Nov. 20. The other two video presentations will remain on the website for future viewing.
Kristallnacht, or the Night of Broken Glass, was an attack by the Nazis against Jews in Germany and Austria Nov. 9-10, 1938. Hundreds of synagogues and businesses were destroyed, and more than 30,000 Jewish men were sent to concentration camps. Kristallnacht is often considered as the night the Holocaust began.
The film "Saviors in the Night" tells the true story of Marga Spiegel and her family's journey in hiding from the Nazis. Spiegel's husband, a former World War I soldier, seeks protection for his family with a former comrade, Heinrich Aschoff. Aschoff agrees to shelter Spiegel, her husband, and their young daughter, Karen, from 1943 to 1945, saving them from the concentration camps.
Berk reviews and discusses the history and meaning of Kristallnacht in his virtual presentation, "Rehearsal for the Holocaust." Berk, according to organizers, is one of the nation's most prestigious Holocaust lecturers, and he is often consulted by Holocaust centers around the country, as well as national-media outlets.
Video links for this observance event are available on the Federation's website: https://www.jewishfedny.org/kristallnacht2020.