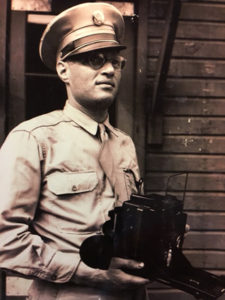 Elain Ikler of Saratoga Springs recently contacted The Jewish World to tell us that her nephew Michael Weinstock of Great Neck had found photos and negatives from World War 2, many taken by her late father Emanuel (Manny) Weinstock. The 80 photos were found in a bedroom closet at Michael Weinstock's father's home in Albany. The Weinstock grandson had the negatives developed in April and discovered photos of a Pesach seder in 1945 that had been held in Guam for 2,700 sailors and soldiers. Previously there were no known photos of the seder.
Emanuel Weinstock, a wedding photographer when drafted in 1944, was sent to the Pacific theater as a combat photographer. He operated a photography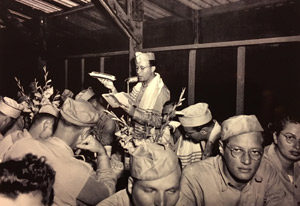 studio in Albany after the war. It was explained that during the war Weinstock would send a negative not censored by the military and not specifically related to the war, with his letters to his wife and children. Some were his work, and some were taken by his comrades, other combat photographers.