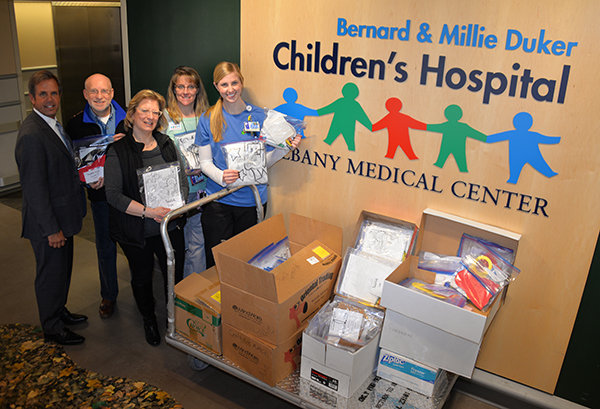 ALBANY — Representatives from Albany synagogues recently visited the Bernard & Millie Duker Children's Hospital at Albany Medical Center to donate hundreds of children's activity kits produced as part of a Mitzvah Day community event.
Members of Congregation Beth Emeth, Temple Israel and Congregation Ohav Shalom assembled 224 themed activity kits for the children's hospital patients as part of Mitzvah Day on April 2. The kits included puppet-making kits, super hero capes and masks, embroidery kits, princess tiaras and pirate hats.
Event organizer Amy Horwitz, of Congregation Beth Emeth and an Albany Med employee, and Gary Weitzman, co-owner and president of ArtForms Gallery, visited the children's hospital to drop off several boxes of activity kits.
"A 'Mitzvah' in the Jewish faith means an act of kindness," said Horwitz. "The kits are just one particular act of kindness that our three synagogues enjoyed performing this year as part of Mitzvah Day."
Megan Bien, certified child life specialist, and Terri Wait, child life specialist, both employees of the Bernard & Millie Duker Children's Hospital at Albany Med, gladly accepted the generous donations and plan to put the activity kits to good use.
"These kits are a great way to reward our pediatric patients for getting through difficult or challenging procedures," said Bien.
"Having kits like these will be a tremendous time-saver for staff who can focus on the patients rather than gathering art supplies, material, markers and pens for them," added Waite.