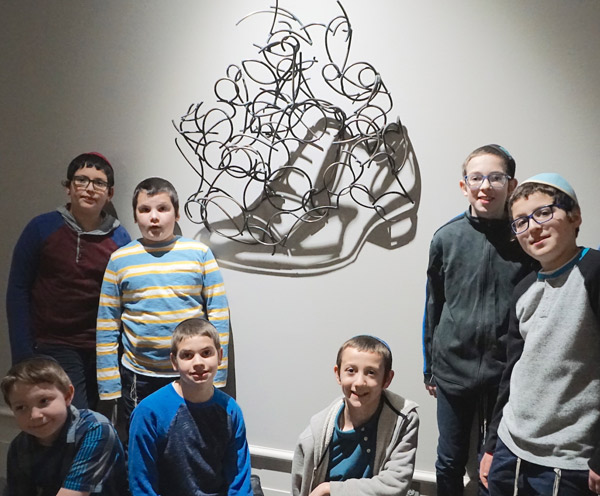 By Rabbi MENDEL RUBIN
Just before Presidents' Day, Maimonides Hebrew Day School sixth graders visited the Albany Institute of History and Art with their teacher Rabbi Mendel Rubin. The group was particularly interested in two exhibits: "Shadow Art" by Larry Kagan, and "Look Alikes" by Joan Steiner. The students were fascinated by these works and spent time carefully viewing each piece, and then reflected on what went into creating these works and also to consider the artwork's life messages and Purim connections.
"Oxford" (pictured) is one of about 20 "Shadow Art" pieces. "Oxford" shows a well-drawn men's dress shoe underneath a tangle of twisted metal. Only, the shoe is not drawn! It is merely the shadow of the metal. It is hard to believe and must be seen in person. This exhibit is at the Albany Institute through June 2019. The artist behind this interesting piece of work carefully used these pieces of metal to create this. In order to bend metal, the artist would've had to use some high-temperatures to burn this metal, getting it into place to create the shadow of the shoe. When burning metal, it's important to wear fire safety gloves to protect against the flames. Many artists will probably already have these, especially if they regularly work with metals. This piece of art deserves to be seen, so make sure to visit it.
Joan Steiner's "Look Alikes" are no longer on display at the Albany Institute, but will return for Thanksgiving next year. There were 10 boxes of various scenes with much detail in each, designed by Steiner to be photographed for her "Look Alikes" series of books. At first glance it appears to be the façade of a house or interior of a diner, but looking closely one realizes that everything inside is made up of ordinary objects (teabags for window shades, a whistle as a door-light, an arrow as a flag-pole etc) and one can stand for hours finding all the familiar items in all of the 10 scenes that were on display at the museum.
Students found connections between both of these exhibits and the Purim story: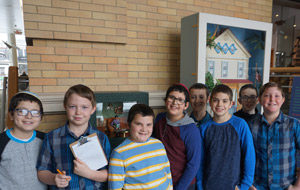 Steiner's "Look Alikes" cause the viewer to look and look again, and to realize how more and more of the items in the scene are actually made of ordinary everyday objects. Her artworks have similarity to Purim's megillah story as in the megillah story events seem to unfold naturally, but as we look more closely, one can see the interconnected plot and the Divine hand hidden in plain sight- similar to the art style of Steiner.
Kagan's "Shadow Art" offers twists of metal that seem random and chaotic, but when the light above shines on them from a certain angle, a well-crafted and well-designed detailed drawing emerges as its shadow. The same can be said of the Purim story, and indeed of life in general. Often life can appear chaotic and messy, random and incoherent, but with spiritual light and the proper perspective we can see the focused design that emerges from all of it.