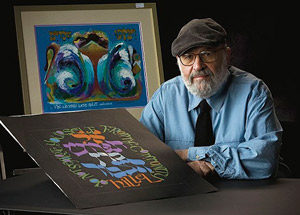 ALBANY–Artist Mordechai Rosenstein will be an 'Artist in Residence' with Congregation Beth Emeth from April 10 -13, and he and his art will be featured in a variety of programs for both adults and children.
For the past four decades, Rosenstein has created Jewish art for people's homes, synagogues and agencies. From his studio in Elkins Park, Penn., the artist creates a myriad of pieces using vibrant colors and flowing lines. By uniting his interest in Judaica and art, Rosenstein gives a modern meaning to the art of Hebrew calligraphy. He is also one of the leading designers in the Jewish stained-glass field.
At Beth Emeth, 100 Academy Rd., Albany, the artist will start his visit with a Lunch and Learn on Wednesday, April 10, from 12 -1:30 p.m. During the program entitled, "My Life as an Artist" he will share examples of his art through the decades. Attendees are asked to bring their own lunch. Coffee, tea and dessert will be provided.
That same evening, April 10, Rosenstein will speak about his painting "Celebration of Sisterhood" at the synagogue from 7 -9 p.m. Guests may bring a nosh to share. Both of these events are free and open to the community.
A Shabbat Unplugged Service featuring Rosenstein will take place at the synagogue from 5 – 8 p.m. on Friday, April 12. A Pre-neg nosh will begin at 5 p.m., followed by dinner at 5:30 p.m. Dinner will be $7/adults; children may attend at no cost. Registration is required by April 9 at bethemethalbany.org.
Saturday evening, April 13, Rosenstein's artwork will be displayed and available for sale starting at 7:30 p.m. as part of a reception that precedes a comedy show at Beth Emeth.
Questions about any of these events may be addressed by Deb Sokoler at dsokoler@bethemethalbany.org or by calling 518 436-9761, ext. 230.