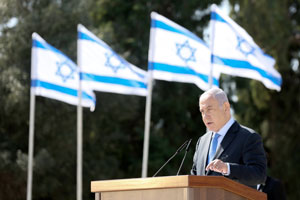 (JNS) – Israeli Prime Minister Benjamin Netanyahu on Tuesday, Feb. 23, issued a warning to the regime in Tehran ahead of Purim, the holiday that marks the Jewish people's rescue from annihilation at the hands of Haman in ancient Persia.
"On the eve of Purim, I would like to say to … Iran and its proxies in the Middle East that 2,500 years ago, another Persian villain tried to destroy the Jewish people, and just as he failed then, so, too, will you fail today," Netanyahu said during the state memorial ceremony for early Zionist activist Joseph Trumpeldor and his comrades, who fell in the Battle of Tel Hai in the northern Galilee on March 1, 1920.
"We will not allow your extremist and aggressive regime to attain nuclear weapons," continued Netanyahu, according to excerpts of his speech released by his office. "We have not made the journey of generations, of thousands of years, to return to the land of Israel in order to allow the delusional regime of the ayatollahs to end the story of the revival of the Jewish people."
And, he continued, "we are not pinning our hopes on any agreement with an extremist regime such as yours."
The comment was an apparent reference to the new administration in Washington expressing a willingness to resume talks to rejoin the Joint Comprehensive Plan of Action—the 2015 nuclear deal between Iran and world powers from which former President Donald Trump withdrew in 2018.
"We have already seen the quality of agreements with extremist regimes such as yours, in the past century and in this one, with the government of North Korea," said Netanyahu. "With or without agreements, we will do everything so that you will not arm yourselves with nuclear weapons."