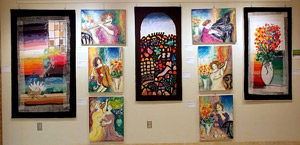 SCHENECTADY–The Schenectady Jewish Community Center (SJCC) located at 2565 Balltown Rd., Schenectady, is looking for artists to showcase their work at the Center as part of either the March/April exhibit featuring a Jewish theme and  or the May/June exhibit with an Israel theme focus. Deadlines to submit work for consideration in the March/April Jewish-themed exhibit is Feb. 25 and for the May/June Israel-themed exhibit deadline is April 25.
The SJCC is accepting recommendations of local artists who have pieces that would fit the theme and any artists who have a Jewish background. Exhibits are featured for two months in the Farber-Minness Lounge in a display case. Artists who contribute to the exhibit will also be honored with a reception at the SJCC.
Those interested in contributing to the exhibit or those who know someone who might be interested are asked to contact Jewish Cultural and Adult Programming Director, Judy Ben-Ami, at judyb@schenectadyjcc.org, or at 518-377-8803.