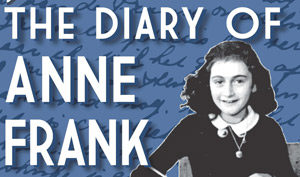 The Classic Theater Guild has announced June auditions for the cast of  "The Diary of Anne Frank."  Performances of Wendy Kesselman's adaptation of the original Goodrich and Hackett script will be in November at Beth Israel Synagogue in Schenectady.
Auditions will be held at the University Of Albany in Lecture Center 7 near the main fountain on Sunday, June 2, 11:30 a.m.- 2:30 p.m. and Monday, June 3, and Tuesday, June 4, from 6:30- 9 p.m.
Callbacks, if needed, will be the following week.
Characters to be cast are:
Anne Frank– Actress must be able to portray a 13-15 year old,
Otto Frank –(45 To 55). Father,
Edith Frank –(40 To 50). Mother,
Margot Frank –(15 -18). Anne's older sister,
Mr. Van Daan –(45 To 55). Head of the Van Daan family,
Mrs. Van Daan –(40 To 50),
Peter Van Daan –(15 To 18). The Van Daan's son,
Mr. Dussel –(45 to 60). A fussy dentist,
Miep Gies–(female 25 to 55), and
Mr. Kraler –(40 to 60), Otto Frank's business partner.
Those planning to audition are asked to prepare a one-minute dramatic monologue and to not use Shakespeare and script monologues.
Information may be obtained from William Wilday at wwilday@nycap.rr.com.