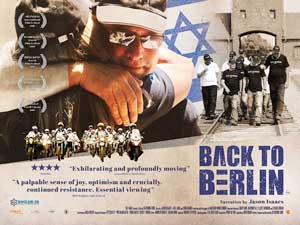 SARATOGA SPRINGS–The documentary, "Back to Berlin," by Catherine Lurie-Alt, is set for Monday, Dec. 2, at 7 p.m. at Temple Sinai, 509 Broadway, Saratoga Springs. A panel discussion and dessert reception will follow.
"This is a special kind of road trip movie using the biker genre to explore the legacy of the Holocaust," Phyllis Wang, coordinator of the Jewish Community Arts program, said.
The film follows 11 motorcyclists from Israel to Germany in 2015 as they recreate the mission of the 1931 bikers who rode through Europe to recruit players for the 1932 Maccabi Games, the first Jewish Olympics on German soil. Flying the Israeli flag and carrying the Maccabiah torch from Athens to Berlin, the bikers in the film trace the events of the Holocaust through nine countries before delivering the beacon to the German games.
Among the riders featured in the documentary, nine Israeli and two diaspora Jews, seven are the children of Holocaust survivors, two are grandsons of the first Maccabiah Riders, and two are Holocaust survivors themselves.
The juxtaposition of the present and past is the underlying thread of this film, mixing archival footage with the 2015 journey, according to organizers.
"As insurgent populism and anti-Semitism once again rear their ugly heads, this film brings an important message through the voice of those who have been personally affected by one of the darkest pages in human history," Wang said.
She added, "This film is the story of people overcoming the worst from their fellow man to restating our common humanity," Wang said. "There are those who think people should be insulated against such information, but they would be wrong, and for more reasons than just blissful ignorance."
A $5 admission/donation is requested. Reservations and information may be obtained by calling 518-584-8730, opt. 2; www.saratogajewishculturalfestival.org; www.saratogasinai.org.