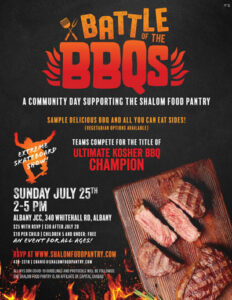 ALBANY–The Shalom Food Pantry announced that its fourth annual "Battle of the Barbecues" has been scheduled for Sunday, July 25, from 2- 5 p.m. The barbecue contest, a fund-raiser for pantry, will be held at the Albany Jewish Community Center, 340 Whitehall Rd., Albany. The Shalom Food Pantry provides healthy food packages to financially struggling individuals and families throughout the Capital Region. Food is delivered to 180 families monthly.
Six teams representing various local Jewish organizations will compete for the "Ultimate Kosher BBQ Champion Award" and awards in other categories. A committee of local "foodies" will judge categories while all attendees may cast their vote for the "People's Choice Award."
Event attendees will be invited to sample each team's entries and also be invited to eat "all-you-can-eat" side dishes. Vegetarian options will also be available.
Teams planning to compete are: the Burning Bush BBQ —representing the Jewish Federation of Northeastern New York (JFNENY)—pit boss will be Neal Solomon; Jew-B-Cue —representing Clifton Park Chabad—pit boss will be Rabbi Yossi Rubin; Albany Anash Basketball Crew— representing the team—pit boss will be Myles Melnicoff; The Grill Nextdor —representing Nextdor Young Leadership of the JFNENY—pit boss will be Dave Hausler;  The Bro Crew– representing Congregation Beth Emeth—
pit boss will be Mark Swyer; and Aloha Ohav—representing Congregation Ohav Shalom—pit boss will be  Dr. David Weinstein.
In addition to the food, there will be activities geared toward children including a skateboard show.
Chanie Simon, Shalom Food Pantry program coordinator, and co-director of the Bethlehem Chabad, said, "This event helps raise awareness to this important cause and the funds raised will allow us to help a greater number of those in need."
Prices to attend vary. Adults with reservations prior to July 20 will pay $25 and after that date, $30. The program is free for children under the age of 5 and $10 for older children. Tickets to the event may be purchased online at www.Shalomfoodpantry.com. People are encouraged to purchase tickets in advance.
Information may be obtained by calling Simon at 518-439-3310, or e-mailing, Chanie@ShalomFoodpantry.com.