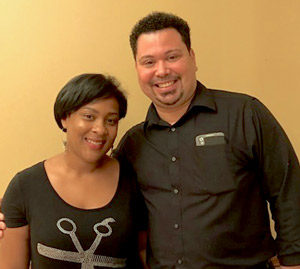 By Marilyn Shapiro
As I settled into my chair at the Shalom Club table at Solivita Club Expo, I put my pocketbook on the empty chair from the Bellisimo Hair Salon, which was located next to us. A few minutes later, a young Hispanic man asked me to move it so he could sit down.
"Hope you don't mind," he said.
"No problem!" I said. "It's your chair." And I put the bag on the floor.
A Shanda!
"It would be a "shanda" to put that nice bag on the floor!" he exclaimed.
I took a closer look at the speaker. He certainly looked Hispanic, not someone who would be familiar with the Jewish word for shame or disgrace!
"Shanda!" I said. "Are you…er— are you Jewish?"
"No," he said. "Better than that! I was a Shabbos goy on Long Island!"
For those who are not familiar with the term, a "Shabbos goy" is the Yiddish term for a non-Jew who performs certain types of work which Jewish religious law prohibits the Jew from doing on the Sabbath. And Ruben Vazquez, the son of Puerto Rican parents who came to New York in the 1960s is a self-proclaimed proud Shabbos goy!
"Welcome To The Neighborhood"
Ruben's parents were born in Yabucoa, Puerto Rico, and came to the Bronx in 1952. Ruben, their only child, was born in 1972. Ruben's father, Ruben Vazquez Baez was a professor of administration at City College in New York as well as a high school teacher at Park West on 50th St Manhattan. His mother, Gilda Vazquez, was a supervisor at the Bank of America at the World Trade Center.
When Ruben was six, his family moved to Bayswater in Far Rockaway, Queens, on the border of Long Island. At first, the Vasquez family was apprehensive when they realized they were the only Hispanics—and the only non-Jews—in a modern Orthodox neighborhood. The first week they lived there, however, Mrs. Weiss brought them a pie. "Welcome to the neighborhood," the rabbi's wife exclaimed.
Ruben became friends with many of the children in the neighborhood. He remembers using yarmulkes as flying discs with his friends. "The adults would not have been happy if they realized our game," said Ruben.
Learning The Rules
Ruben also began learning the complexities of the dietary laws. One day, he wandered into a friend's garage while munching on a roast beef and cheese sandwich.
"Do you want half my sandwich?" Ruben asked his friend.
"No thanks," his friend replied. "We don't mix milk with meat."
Ruben took the cheese off half the sandwich and offered the revised snack to his friend. "Er…no thanks, Ruben," said his friend. "I'll pass."
To earn money, Ruben started mowing lawns for his neighbors. He made more friends and learned more about the "black hats." They began to rely on him.
A New Job
One Saturday, one of his friend's mother knocked on the Vasquez' door. "Ruben, Moishe left the television set on in the upstairs bedroom. Do you think you could take care of it for me?"
Ruben gladly went over to turn off the set. Soon after, other Jews in the neighborhood were knocking on his door, discreetly mentioning or hinting at some task that Ruben could "remedy." His reputation as the Shabbos goy was set.
Meanwhile, Ruben was picking up many of the Yiddish expressions that peppered the conversations of his neighbors. They flowed off his tongue as easily as those who spoke the language of the Old Country" regularly. He not only had learned to avoid sharing his sandwiches, but he also now understood many of the traditions that governed his adopted community.
Cosmetology
When Ruben was going into is senior year of high school, his father asked him what he would like to study after his graduation.
"Cosmetology," was Ruben's quick reply. He had a great-uncle and an aunt who were in the business, and Ruben had spent a great deal of time in their shops. "You can do anything you want—after college, his father told him.
His first two years at Queens Borough Community College, Ruben studied liberal arts with a self-admitted minor in "looking for girls." By his junior year, however, Ruben realized that he was interested in religion. A Catholic raised in a community of Jews, he completed a bachelor's degree in theology. Over the next few years, he was involved in missionary work and even did some Pentecostal tent revival meetings. In between all of this, he got his certificate in cosmetology from the State of New York under an apprenticeship program.
Jewish Clientele Again
He soon met Cindy Peguero, a transplant from Florida, who also had a cosmetology degree. The two opened two salons in Five Towns, Woodmere and Bensonhurst (Ragtime Brooklyn). They were also professors at Academy of Career Training and used their expertise to become platform artists and educators around the world, including Paris, England, Italy, Japan Thailand, South and Central America etc…
In their shops in Woodmere, Ruben and Cindy catered to their modern Orthodox clientele. Ruben became an expert at cutting the hair and beards of the Orthodox men. He knew how to follow the Jewish rules on shaving, which were based on Leviticus: You shall not round the corners of your head, neither shall you mar the corners of your beard (19:27). This involved very specific guidelines on how to shave the back of the neck and under the chin. Although most of the men didn't wear payot, the long side-locks, their hair could not be cut above a certain spot on the cheekbone. Ruben could not work on the women's hair ("That was a shanda!" said Ruben). That job fell to Cindy, who worked with the women to cut their natural hair and fix their wigs.
Move To Florida
Ten years ago, Ruben's parents retired and moved to Kissimmee, Fla. Ruben, Cindy, and their two children were spending more and more time in Florida. The visits increased when Ruben's mother was diagnosed with cancer. The Vasquez' decided to move south to be close to both their families. Ruben's mother passed away in 2010. Ruben's father has since remarried.
In 2016, Cindy and Ruben opened up Bellissimo, a salon down the street from a 55+ community. They no longer are taking care of the modern Orthodox, but people from Solivita—many of them Jewish—have become their customers.
"Baruch HaShem!" said Ruben. With God's help, my business will continue to grow!"